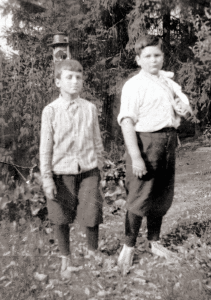 I always looked forward to the time when school would be out, for I never was too fond of studying and, besides, my parents ran a small summer boarding house to which a few families brought their children year after year. The summer season was the most pleasant time of all, for then the school bell did not interrupt the baseball games or the hours spent swimming with my city friends.
—Arthur Austin.
It was the last day of school and the start of the anticipated summer season in the picturesque Town of Highland, New York.
Arthur Austin, seven, his sister Elizabeth, nine, and his brother Bob, five, walked home from the Eldred Schoolhouse near the southeast corner of Eldred. It was less than a half mile walk (Bob and Elizabeth probably ran) east towards the Austin Mountain Grove House.
Art, Elizabeth, and Bob Austin weren't the only children looking forward to a time uninterrupted by the school bell. Youngsters in the Town of Highland's five hamlets—Eldred, Highland Lake, Barryville, Yulan, and Minisink Ford—also had counted down the days to the best of all seasons and visits from their city friends.
They looked forward to fishing, boating, and swimming (called bathing); ice cream socials; church bazaars; fourth of July sparklers and fire crackers; catching lightning bugs; making slingshots; playing baseball; and countless other summer delights.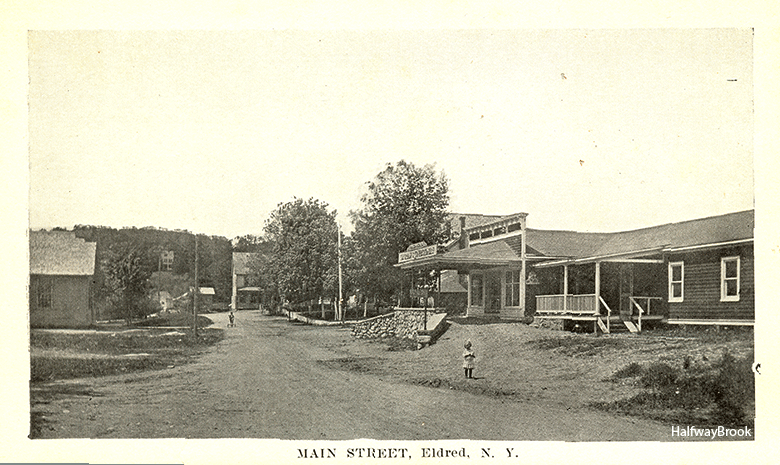 The adults were geared up for summer visitors. Reservations had been made ahead of time. (Some families continued to vacation in Highland for two and three generations.)
Ice had been cut and packed in sawdust in the winter months and stored in the ice house for the summer. In the spring the gardens had been planted as many of the boarding house owners also farmed—so there was fresh produce for the guests.
The Boarding Houses sprinkled among the rolling hills, lakes, and rivers of the Town of Highland, provided the perfect setting for a summer retreat. They also supplied a foundation for the community's economy.
The out-of-town guests (both sportsmen and vacationers), mostly from New York City, stayed in boarding houses near or on large bodies of water on either the east or west side of the town; or along the Delaware River.
On the east side of town was hand-shaped Highland Lake, and the nearby hamlets of Highland Lake and Eldred (where the Austins lived); and Glen Spey in the Town of Lumberland.
Fish-shaped Washington, Montgomery and Bodine Lakes were on the west side of town—close to Yulan and Eldred's west side (where the Austin's Leavenworth relatives lived).
Barryville or Minisink Ford Houses were situated on or close to the Delaware River.
Summer Houses and some townsfolk had telephones. It would be a few more years before electricity would arrive in the Town's Houses and homes.—from "Most Pleasant Time of All, Town of Highland, 1920," Farewell to Eldred, p.1.