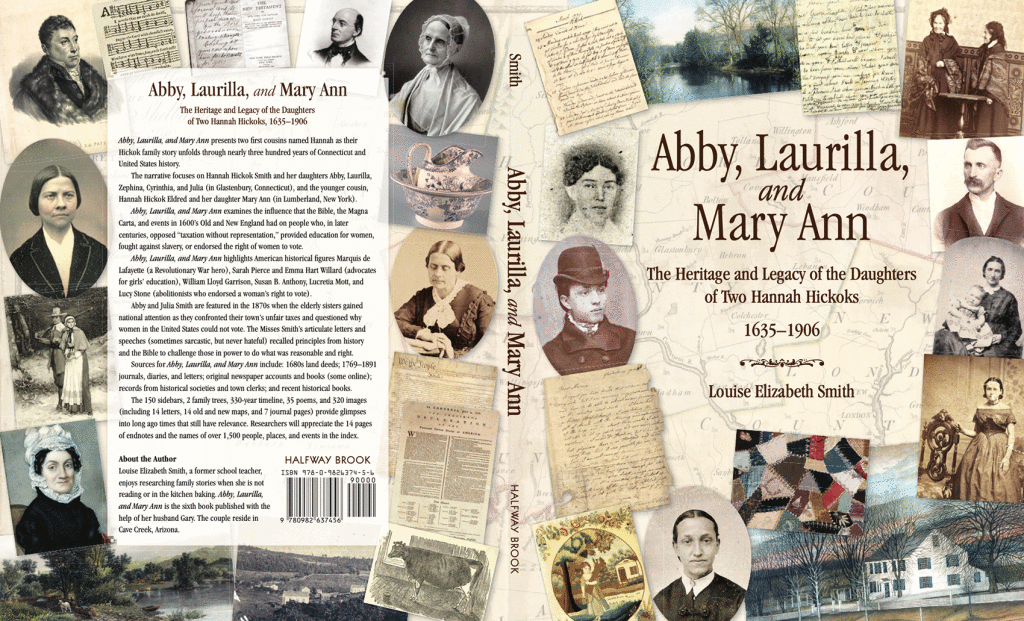 Preview: "Look Inside" of Abby, Laurilla, and Mary Ann.
ISBN: 9780982637456
Softcover, 8-1/2 x 11, 356 pages, color interior on 80# gloss paper
How to order Abby, Laurilla, and Mary Ann
Abby, Laurilla, and Mary Ann is a Print On Demand (POD) book; they are printed one at a time by the printer (BookBaby).
You can purchase Abby, Laurilla, and Mary Ann directly from BookBaby.com (use the coupon code) or send a check to Louise Smith for an autographed copy (supply is limited). Please allow two to three weeks to receive your copy.
1. Order from BookBaby
List Price is $75 + shipping and tax
$55 + shipping and tax with $20-off coupon (through June 15, 2022). Use Coupon Code: ABBY22
Click on "BUY NOW." (You don't have to purchase the book to see the covers and a 9-page preview.)
2. Pay by check for a signed copy (limited supply)
$65—$58.50 (includes tax) + $6.50 S&H
Send me an email with your name and address to:
halfwaybrook at protonmail dot com or
add the information on the Comment Section Link at the top header. I will email you an address to send your check.
3. Amazon and BarnesandNoble
$75 pre-order, available June 20, 2022