Hello Halfway Brook friends,
It has been a long time since I posted, but we are doing ok here in Cave Creek.
Abby, Laurilla, and Mary Ann, the book about my Hickok ancestors (1600–1900), is hopefully in the last stages. The text and some 144 sidebars are completed, as is a 3-page timeline, 2 family trees, endnotes, and index. One map is left and several read throughs to catch the edits which manufactured themselves as the book was written.
I have become the organizer of almost all of my parents' gazillion family photos and document collection (thanks to my mother saving them). I am currently organizing the Lone Scout letters girls from all over the U.S. wrote to my uncle McKinley (Mac) Austin in January and February 1918, before he left for France to fight in WWI.
This is a partial repost from 2016. I am hoping more people have been researching their relatives and might be interested that their relative wrote a letter, while attending high school. I would love to hear from you if one of these young ladies was your relative. You can leave a comment on this post or contact me at: HalfwayBrook at protonmail dot com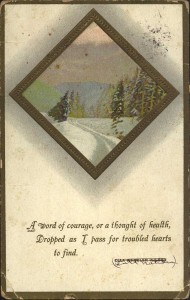 Lone Scout Letters, February 1–5
• Vera M. Allen, Cates, Indiana
• Anna Betsa, Lopez, PA
• Maggie Dempsey, Warrior, Alabama, Route 3
• Flossie Fraser, Gainsboro, Saskatoon, Canada
• Irene Freeland, Indianapolis, Indiana
• Ottie Godsey, Peerless, Indiana
• Helen Hamilton, Chicago, Illinois Continue reading →