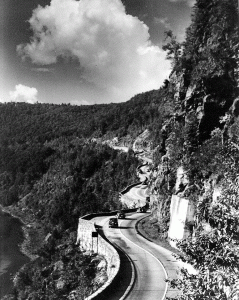 August 30, 1939, N.Y. Route 97 from Port Jervis to Hancock, was officially opened.
Several events were held to mark the road's opening, including a ribbon-cutting ceremony in Port Jervis featuring the mayors of Port Jervis and Hancock and a motorcade procession that traveled the length of the highway.
In all, it cost $4 million (equivalent to $66.8 million in 2012) to build N.Y. 97. The portion through the Hawk's Nest cost $2 million (equivalent to $33.4 million in 2012) to construct.—wikipedia.org.
September 1939
Germany invaded Poland on Friday, September 1. The world would soon be at war.
"Fighting in Europe. Germans and Polish so far," Ella wrote on Saturday.
Sunday Clara and Ella took care of Jimmy so Anna and Bill could help Lottie Meyers with her boarding house.
Monday Lee and Garfield ran more cement in the barn.
Thursday the groceries were delivered from Al Randolph's Royal Scarlet.
Friday Ella wrote, "Babies both have teeth."
"War still on between Germany, England, etc.," Ella penned on Saturday.
In his Fireside Radio Chat Sunday, September 9, President Roosevelt said he fervently hoped the country could stay out of the war. Continue reading →