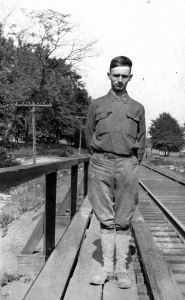 September 5, 1917
Dear Father,
We had a holiday today as this is the day when the drafted men were called.
There was a big parade in Chattanooga. My company was not in it fortunately and I had a day off.
I watched the men march down Market St. They took about three quarters of an hour passing. The drafted men marched behind the soldiers. There were a number of Civil War veterans in the parade wearing their old uniforms of blue or gray.
I bet the drafted men will be sick of war soon. We got some hard drill at first, but I don't think it was anything to what the conscripts get.
Some of our non commissioned officers were transferred to train the National Army as the conscripts are called, and from the way most of the regulars feel and speak of the "d—- slackers" they won't be shown as much consideration as we were.
Some of our men got awful lectures at first and the NC officers say that a man that has to be made to fight, doesn't deserve to be shown the patience a volunteer deserves.
I don't mean they will be ill treated because of the rules in the discipline that forbid striking a man and all that. But they will probably get some savage calling downs and be reminded they were forced to fight for their country.
At noon a couple of the boys and I were down on Market St. I was just going to look for a restaurant when a fellow came up to us and said. "Boys, there's a lunch for you soldiers at the courthouse."
The lunch was served by the "Daughters of the Confederacy" and they sure treated us fine. They seemed to be afraid we won't get enough to eat and they kept urging us to eat some more. Continue reading →