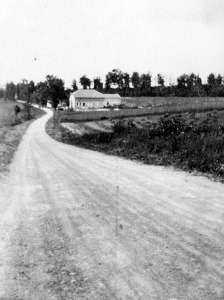 Romagne-sous-Montfaucon, France, October 12–17, 1918
McKinley's outfit arrived in the vicinity of Romagne-sous-Montfaucon on October 12. They suffered casualties from the heavy shelling of enemy guns the next day. That evening the 11th Infantry took up a position around Ferme de la Madeleine.
At the Battle of Romagne-sous-Montfaucon (October 14–17), the Americans launched a series of costly frontal assaults that finally broke through the main German defences of the Hindenburg Line.
The enemy waiting until the forward movement is commenced, throws down a terrific barrage upon our front so that the division going 'over the top' at daylight (October 14th) with the 9th Brigade (60th and 61st Infantry) on the right, and the 10th brigade, 6th and 11th Infantry on the left, is immediately plunged into a perfect storm of shell fire which inflicts heavy casualties in its ranks at the very outset of the advance.—Moss and Howland, p. 287.
McKinley is Hit
It was our [11th Infantry's] first day in the Argonne drive and we went over at 8 the morning of the 14th of October. We hadn't gone far when we were held up by the German machine guns.
They [Germans] were firing on us from three different directions and there wasn't enough of the boys left to advance farther so we were forced to stop and dig in.
The Corporal of his squad being a casualty, [I] made [McKinley] Austin as I knew him, Squad leader and when we reached the hill which was Madelaine Farm, the German's made it so hot for us we could not advance further. So I directed him to put his gun into action on the west of the hill.
Then I went on seeing the other gun put into action which was even more perilous and came back. Seeing him on the side of the hill I asked him if he had the gun in action. He said, no. He came back for 
a shovel. I paid no more attention to him then and went on to report to Capt. Dashiell who was killed later.—Sgt. John Popp letter.
At Madelaine Farm after this company had gained its first objective, [Mac] was put in command of the 6th squad (acting as corporal).
In order to consolidate the position and to prevent a successful German counter-attack, [Mac] took his machine gun and his squad of men forward to a shell hole.
It was a dangerous mission for artillery and machine gun fire was heavy. Finding the hole not deep enough to provide cover for the gun and all the men, he returned to the trench and obtained a shovel. Most any other man in his position would have sent one of the men of the squad back for the shovel, but [Mac] chose to run the danger himself.—Letter from Allen Maxwell; Captain 11th Infantry Commanding Company.
The first thing we did was to get our machine guns placed in case of a counter-attack. It was while engaged in this that McKinley 
was shot. Continue reading →