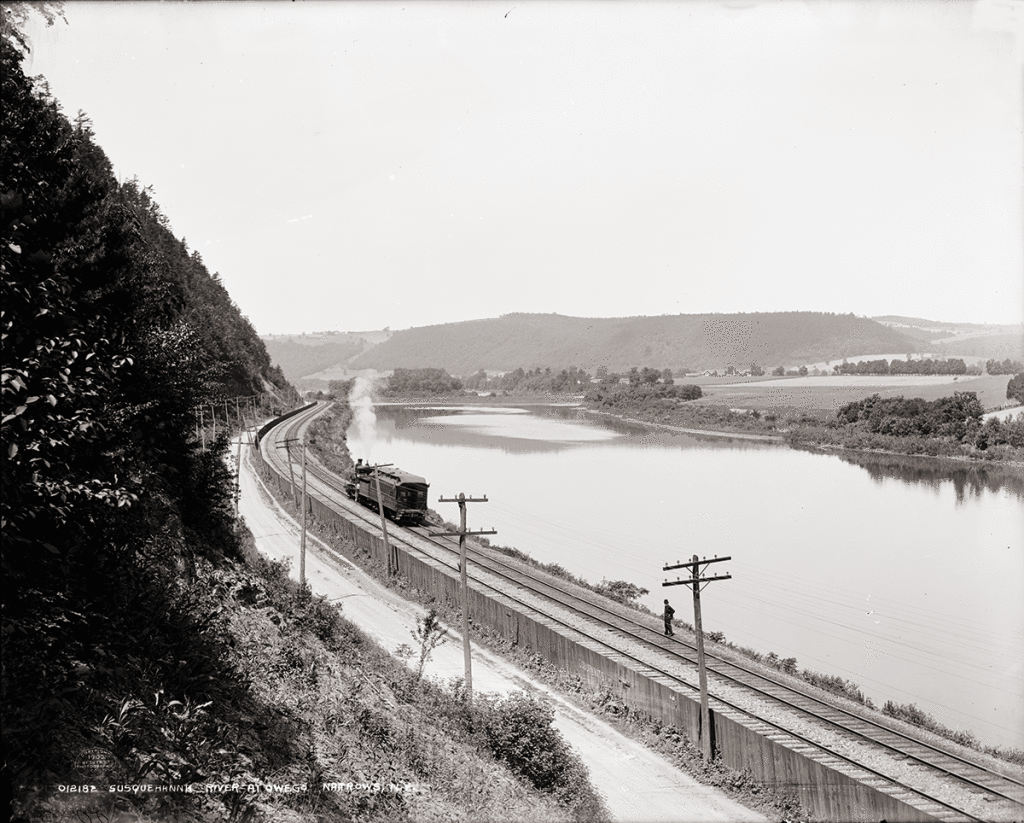 Abby Smith and her sister Laurilla Smith were brought up to think more of the Hickok relatives of their mother Hannah Hickok Smith, than their father's. In 1854 Abby (age 56) and Laurilla (age 65) left their Glastonbury, Connecticut home, to visit their mother's remaining Hickok first cousins. We join them after their visit with Louisa and Reuben.
On a summer's day in 1854, Laurilla and Abby Smith said goodbye to their second cousins Louisa Hickok and her brother Reuben, in Pennsylvania.
The sisters then rode fifteen miles north to the Union Railroad Station at Owego, New York.* Abby and Laurilla planned to travel by rail to meet and reconnect with their mother's other first cousins: Hannah Hickok Eldred and Justus Hickok, who lived in the Town of Highland, New York.
The one-hundred-twenty-mile, picturesque excursion to Shohola, Pennsylvania, first followed (mostly east) alongside the meandering Susquehanna River; then switched to the scenic route beside the winding Delaware River, as they traveled southeast.
On arriving at the Shohola Railroad Station, Abby and Laurilla walked to the nearby Delaware River to ride the old rope-guided ferry across the river to Barryville, New York.
Justus Hickok lived near Barryville, one of the five hamlets in the new Town of Highland. Hannah Hickok Eldred lived in Halfway Brook Village, four miles northeast.
Once on the New York side of the Delaware River, Abby and Laurilla climbed into one of the waiting stages which took railroad travelers to their destination.
The stage bounced and rattled northeast on the dirt Brook Road which paralleled Halfway Brook. After two miles the sisters passed the old 1812 Hickok Homestead of their mother's uncle Asa Hickok and his family.
In another two miles they saw the 1830 Eldred home and sawmill. The stage soon turned right at the four corners of Halfway Brook Village, and proceeded southeast.
As they bumped along, they noticed the Congregational Church on the right. Felix Kyte was still the pastor. Close by were the Eldred barns. Opposite the barns, on their left, was the home of C.C.P. and Effa Eldred with a room for the Post Office.
The rough, miserable ride was almost done. After crossing the bridge over Halfway Brook, Abby and Julia soon arrived at the Austin home.
—Abby, Laurilla, and Mary Ann, p. 170.
* This is a possible scenario of Abby and Laurilla leaving Pennsylvania and traveling to visit their New York Hickok relatives.