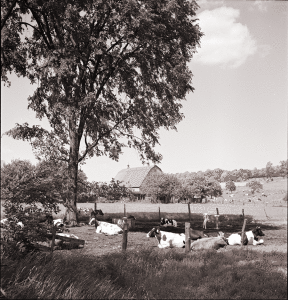 When Mr. Andrews dropped by the first day of the New Year, Abby and Julia gave him their usual warm welcome. They soon found out exactly what the town men thought of Abby's speech.
Mr. Andrews presented a document which gave him permission to immediately take Julia's pet cows—unless they paid their tax bill of $101.39.
Julia and Abby pleaded for a chance to speak to the town again to see if they would allow them to pay twelve percent interest (one percent a month), the same as voters (men) were allowed to do, on the $2,000 the men owed the town.
Mr. Andrews ignored the sisters and left to remove seven of Julia's eight pet cows. (The law required they be removed for seven days before the auction.)
Mr. A. also disregarded Julia's plea to leave two cows so the young one would have a companion. The little one left behind cried the whole time.
Andrews led the seven cows (which rebelled all the way) to Neighbor Hale's empty tobacco shed, two or three houses above the Smiths. Julia could hear the cows complaining all night. She worried about the comfort of her pets, all huddled in the 15-foot by 12-foot shed 24 (which she had measured herself).
The cows were more trouble than they were worth. Mr. Hale had to carry water (around twenty-one pails a day) some distance. Hay had to be brought from another building. The cows, of course, wouldn't let him milk them, so he had to ask Mr. Kellogg to do the milking. And Mrs. Hale would not take a drop of their milk.
On January 8, 1874, in the "depth of winter," since Abby and Julia would not pay their tax bill, Mr. Andrews led the seven pets from their crowded "home" to the auction signpost, a half mile away.
The procession—complete with drum accompaniment, began. Mr. Andrews led the best cow Jessie. Daisy, Proxy, Minnie, Bessie, Whitey, and Lilly, four men, a dog, and a drummer followed. Several teams and Julia and Abby in a wagon with Mr. and Mrs. Kellogg completed the "parade" (or funeral, as Mrs. K. thought) to the signpost.
The forty men at the signpost, hoping to get a good Alderney for cheap, bid so low, that Mr. Kellogg (with the money the sisters gave him) bought four cows for $101.39, the tax amount the sisters owed.
Endnotes
• "What Male Glastonbury Did on New Year's Day; An Idyl of Modern New England," Springfield Republican, January 6, 1874, Smith, Cows, 13.
• "Abby Smith Describes the Sale of Her Cows," Springfield Republican, January 12, 1874, Smith, Cows, 14.
• "The Glastonbury War," Boston Post, January 22, 1874, Smith, Cows, 25–7.
• "Abby Smith Describes the Sale of Her Cows," Springfield Republican, January 12, 1875, Smith, Cows, 14–15.
• Smith letter to Lucy Stone, April 19, 1874, Smith, Cows, 39.