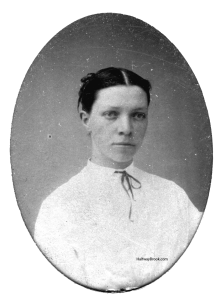 I went to school at home until 1861.
Then for two or three years I attended at Shohola and Barryville.
My teachers were Miss Ellen Beakey, George and Albert Stage, George Dubois of Bethel, Harriet Leavenworth, George Egbert Mapes and Theodore Mapes. I attended school here until I was 9 years old. I boarded with Mrs. C.P. Fuller.
I went to New York City to live with my brother Francis to go to school, but stayed only three months when I was taken with the measles.
In the fall of 1865, I went to see my brother Joseph who then lived at Waterford, Maine.—Elizabeth (Libby) Kyte, daughter of Rev. Felix Kyte.
Excerpt from The Mill on Halfway Brook, p. 90.
Note: The next few posts are about the early schools and scholars in Halfway Brook.