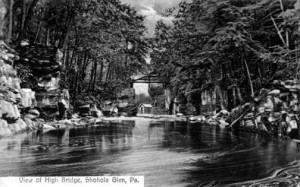 From 1882 until 1907 the Erie Railroad ran excursion trains from New York City and Scranton, Pa., to Shohola Glen—the original of the modern theme parks.
In lower Shohola Glen, Kilgour constructed a large lake, pavilions, galleries, amusement rides including a carousel, a huge dancing and roller-skating platform under the Shohola Viaduct on the Erie Railroad, and a large dining hall and kitchen…
In the upper glen he constructed paths and rustic bridges across the Shohola Creek and through out the park to showcase the natural beauty of the Glen.
Pools of water and formations named Cascade Cavern, Bell Rock, Devil's Pass, Hell Gate, Terror Grotto, Satan's Nose, and The Spirit of Dark Waters, were some of the names given to these places of natural beauty…
The park was lighted by colored electric lights, lanterns and electric torches with power being generated on site from a turbine in the old mill.
—shohola.org.