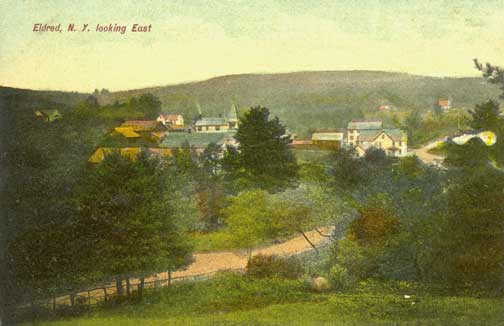 As I have time, I am archiving and organizing all the files, information, and photos on my computer, and ran across this postcard.
The first buildings across the road in the middle of the card are the Methodist church and their wagon shed.
On the right of the card, on Eldred's NW corner is the building I think may have originally been owned by Charles Wilson.
On the NE corner was William H. Wilson's store (later Dunlap's Restaurant); then Straub's Hotel, originally built and owned by James Y. Parker.
The house in the distance on the far right could be Mountain Grove, if the Austin Mountain Grove home had a red roof.
A short ways from the southeast corner was the Parker Hotel, the second one James Y. Parker built. It often housed the post office.
The road in the foreground continued northwest and went by the Leavenworth's Echo Hill Farm House.
Does anyone have memories of Eldred Boarding Houses, Hotels, or stores from the 30s to the 50s?