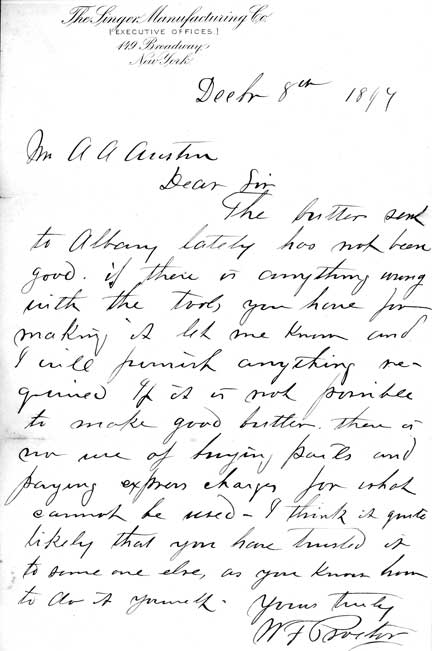 Lon Austin and Mr. Proctor
As mentioned at the beginning of the Chapter 6, Uncle Lon (A.A. Austin) managed some Lochada property for the Proctors in the 1880s. Lochada, the Proctor's home, overlooked Loch Ada (Haggai's Pond). Their English Tudor residence had been designed by H.J. Hardenbergh, also responsible for the design of the Waldorf-Astoria.
I have read that Uncle Lon herded some 80 cows. In Melva Austin Barney's collection were several letters to Lon Austin from Proctor family members. Two of the letters from William Fash Proctor indicated something was wrong with the butter that Lon was in charge of.
Another letter:
W.F. Proctor, 149 Broadway, N.Y.C., Singer Manufacturing Co.,
to Mr. A.A. Austin
December 8, 1897
Dear Sir:
The butter sent to Albany lately has not been good. If there is anything wrong with the tool you have for making it, let me know and I will furnish anything required. If it is not possible to make good butter, then is no use of buying parts and paying express charges for what cannot be used. I think it is quite likely that you have trusted it to some one else, as you know how to do it yourself.
Yours truly,
W.F. Proctor
December 15, 1897
Dear Sir,
I am in receipt of your jams of the 11th and 13th.
There is no doubt at all that the facilities you have for keeping milk and cream and for making good butter are far from what they should be, more especially in winter. I will look into that separator business and see if I can get one. In the mean time, do the best you can with what you have.
You can use your own discretion about the hay horses. There are plenty of useless horses on the place in that [without] getting any more.
I enclose my check to order of J. Howlett Collector of $91.27 for school tax, which you will please get a receipt for and send me. The taxes have not been so low since the new schoolhouse was built. Last year it was $155 and the year before $125, but I suppose the amount you gave me for this year is correct.
We had a very rainy day yesterday and think probably it was the same with you.
Yours truly,
W.F. Proctor