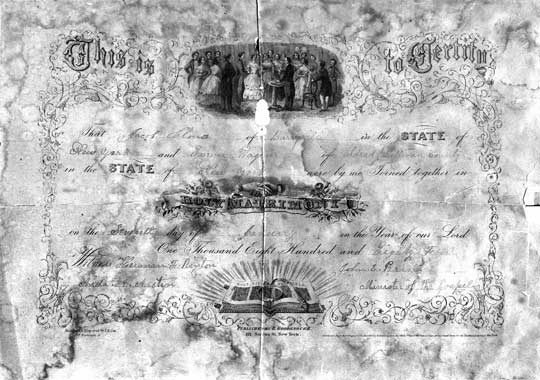 Jacob Clouse of Barryville and Emma Wagner of Eldred were joined together in holy matrimony on January 7, 1884 by Rev. John E. Perine. Herman F. Rixton and Aida A. Austin (my great aunt) were the witnesses.
I have the original Clouse wedding certificate thanks to the thoughtfulness of C.W. A high schooler at the time, she was helping to clean out a real estate office (Reber's I think) in Barryville in spring 2010. Recognizing the name Aida Austin which she had seen on my site, she contacted me, and sent me the actual certificate by snail mail.
Here is some Census information on Jacob (his father's name was also Jacob, I think) and Emma Wagner Clouse and their family.
1900 Census
Jacob Clouse, 38, m. 16 years, day laborer; Emma wife, 36
sons: Herman, 15, mail carrier; John, 14, day laborer, William, 10, Frank, 5
I have Jacob Clouse's death as 1903 and his wife Emma's as 1934.
1920 Census; Highland Lake Road
Herman Clouse, 35, laborer general work; Veronica wife 37
Children: Ada, 11; Gertrude, 9; Herman, 8; Helen, 5; George, 6; and Katharine, 2
A couple months ago, I exchanged emails with Veronica R., the great-granddaughter of Jacob and Emma Wagner Clouse in hopes of getting her address so I can send her the marriage certificate that belongs in her family. I have not been able to contact her after that initial email or 2. If anyone knows how to contact her, please let me know.