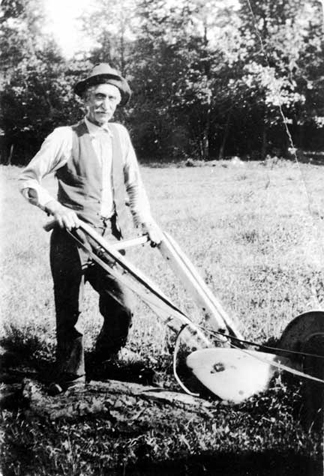 In December 1904 my uncle Raymond Austin turned 4. A couple stories are told about Raymond and his grandfather Henry Austin who lived with the Austin family: Mort and Jennie, and their sons: Raymond, McKinley, and Will.
When Raymond was very young, before he could read, he evidently had a good memory of what he heard read. His father [Mort] got the newspaper—either when he went to the village in the afternoon, or it came in the mail. Mort would often read some of the items from the newspaper to Jennie.
Raymond would listen carefully and later, with his grandfather, Henry Austin, would hold the paper up as though he was reading out loud from it. His grandfather would always comment, "It is a caution how that boy can read!"
One day the report was about a serious railroad accident. Raymond read, with his grandfather Henry marveling—until Raymond read, "A number of people were 'conveniently' killed."
His grandfather said, "What?" and took the paper and noted some other discrepancies, as well. The deception was over.
Henry liked to eat nice thick slices of warm, homemade bread with molasses. He would spoon some molasses on to a plate and dip some bread into it, bite by bite.
The problem arose when Henry had finished the slice of bread and there was still molasses on the plate. (Henry had to cut more bread.)
Then there was likely to be not enough molasses to finish the bread. (Henry had to spoon out more molasses.) There was molasses left over when bread was finished, etc. And Henry wouldn't stop until he could make it come out even—eventually grumbling because he was getting too full.
My dad, Raymond, was fascinated by this and just kept watching to see how long it would take him to come out even. One day Raymond asked his grandpa why he just didn't stop eating if he was too full. He was told to, "Run along and tend to your own affairs."—Melva Austin Barney.