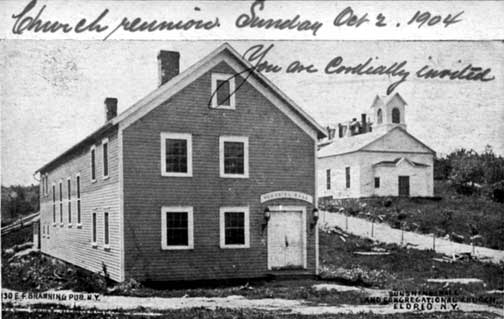 Sunshine Hall
A 1904 postcard of Sunshine Hall in the Austin Collection, is an invitation for a Congregational Church Reunion, October 2, 1904. The Hall was next to the Congregational Church, and was also used for the men's Bible study meetings.
A couple letters from Jennie Crawford (Crandall) to Lillie Austin (Calkin):
Jennie Crawford to Lillie Austin
August 7, 1904
Dear Lillie,
Lillie, I am going to teach at Eldred; wages $10. I was surprised Isaac Sergeant said I had his consent the very first one. I hope I make a success of it.
Would you send me the address to get a "Milna's Arithmetic?" I want to get an arithmetic and key. Success to you in exam and school matters in general.
Bertha is much better, so is Dad, but he lacks much of being well yet. George Parker and May Hammond have just been here to see Dad, also Nels Hulse and Fred Myers.
Mother is feeding chickens. I have just put the horse in. I have written two letters besides this one today.
Fred's (Myers) folks have lots of boarders today. They had 10 come.
Every one and everything seems lazy. I've forgotten all I knew.
Old fears that hang like a changing cloud,
Over a sunless day
Old wrongs that wrank and clamor loud,
Shall pass like a dream away.
Jennie
Jennie Crawford, Eldred, to Lillie Austin
September 12, 1904
Dear Lydia Earl Austin,
There are grapes ready to pick at your earliest convenience.
Tell Mom Austin that Mom Crawford wants her to come and bring you and I say you come and bring your mother. Come after the grapes.
Yours lovingly,
Jennie C.