You ask the probable amount we would raise per Sabbath. I think we could raise $5 dollars per Sabbath for a season amongst ourselves…
At the place in which we live there is a school house in which we hold our meetings on every Sabbath on Halfway Brook, four miles from the Delaware and Hudson Canal. Several miles west, there is a meeting house, but few of our members are there and no meeting kept up."—James Eldred, August 7, 1832.
Chapter 4 tells the story of the arrival of the Congregational Church Pastor, Felix Kyte. Felix Kyte performed the wedding ceremonies for both my Austin and my Leavenworth Great-Grandparents.
Felix Kyte wrote about the years he was pastor in the Towns of Highland, Lumberland and Tusten. The Kyte Narrative was originally published in 1875. In writing Chapter 4, I used a copy of The Kyte Narative, reprinted as a publication of The Shohola Railroad & Historical (Society 2000) that was given to me; and a hand written copy of my great aunt Aida Austin that was loaned to me by my cousin Melva.
The Kyte family moved to several different places before finally getting their own home which is shown on the 1870 Beers map below.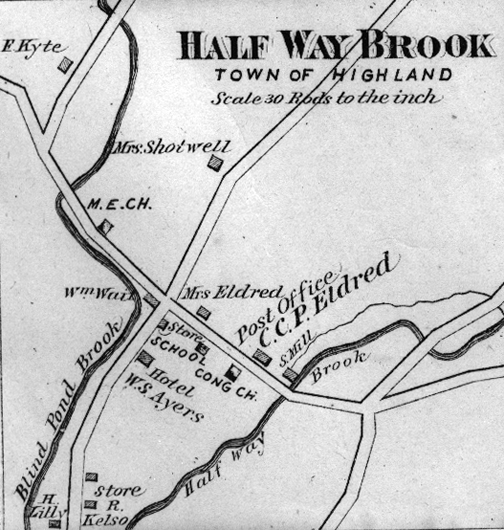 Map courtesy of Frank V Schwarz.