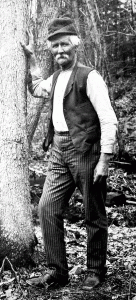 Veterans of the Civil War and Residents Remember the Dead
Impressive memorial exercises were held in the Shohola, Barryville, and Eldred Cemeteries on Memorial Day.
The Veterans of the Civil War, Valentine Hipsman of Shohola; Theodore West of Yulan; and David Crandall and Sherman Leavenworth of Eldred, formed a guard of honor and identified the graves of their comrades; the school children decorated the graves of our heroes with flowers, after which the G.A.R. service was rendered. Jay Lass sounded taps. A community memorial service was held at Sunshine Hall, Eldred in the evening. H.J. Rixton was chairman.
Program:
Overture: Orchestra
Star Spangled Banner and Battle Hymn of the Republic: community singing.
Invocation: Rev. Fidor Ether, Barryville; Rev. Balmer, Glen Spey.
Violin solo: F.A. Schwarz, Glen Spey.
Lincoln's Gettysburg Address: F.J. Lewis, Barryville.
Vocal solo: Mrs. Minnie Myers, Eldred.
Reading: Rev. Fidor Ether, Barryville.
Violin-Piano Duet: Franz Schwartz and Miss Beatrice Covart, Glen Spey.
Address: Hon. Guernsey T. Cross, Callicoon.
Mr. Cross gave a complete history of Decoration Day, now called Memorial Day. He laid special emphasis on the character of its observance and on our duty to perpetuate its memory by living for the country our war heroes made possible.—Republican Watchman.