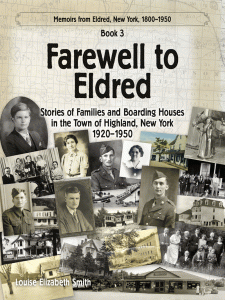 The year is 1920. Mort and Jennie Austin managed Mountain Grove House east of Halfway Brook. The Leavenworths resided at Echo Hill Farm House on the west side of Eldred, near Blind Pond Brook.
Farewell to Eldred concludes the story of the descendants of the original settlers introduced in The Mill on Halfway Brook, and newcomers (often from New York City) who lived in the Town of Highland's hamlets: Barryville, Minisink Ford, Yulan, Eldred, and Highland Lake. Boarding Houses (first featured in Echo Hill and Mountain Grove) continued as the mainstay of the Town's economy. The Erie Railway, Barryville Glass Factory (for a short while), and (later) Narrowsburg Lumber also offered employment.
Farewell to Eldred overflows with reminiscences of stills, baseball teams, radio KDKA, the arrival of electricity, flooding, the search for employment, and World War II, in the Town of Highland, 1920–1950. Daily life—its joys and sorrows—told through 1,100 photos, postcards, and documents, 150 letters, and four diaries (shared by over 100 contributors), is interwoven with World, National, and Local News; and Boarding House Ads.
Book 3, Farewell to Eldred, the culmination of the Memoirs from Eldred, New York, 1800–1950 Series, includes original maps of boarding house locations, an extensive Appendix (with 1920, 1930, and 1940 Censuses), and a 30 page Index of some 2,550 people, places, and events.