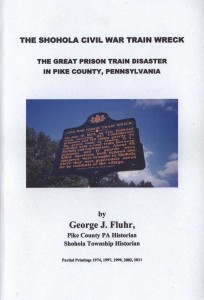 On July 15, 1864, an Erie Railroad train carrying about 833 Confederate prisoners and 125 Union Guards to the prison camp at Elmira, NY, collided with a coal train between Shohola and Lackawaxen.
About 48 prisoners and 17 guards were killed. The dead bodies remained until 1911 when they were disinterred and taken to the National Cemetery at Elmira. At the time of disinterment, it was reported that no trace remained of the train wreck.—Preface to The Shohola Civil War Train Wreck; The Great Prison Train Disaster in Pike County, Pennsylvania, by George J. Fluhr, Pike County, PA, and Shohola Township Historian; Shohola Railroad and Historical Society, 2013.
Mr. Fluhr has compiled over 40 years of his research (almost 4 pages of resources) in this very informative 120-page book about the Civil War train wreck disaster.
Some topics included: a discussion of how many soldiers died (trying to reconcile the conflicting accounts), the site of the wreck and graves, the Union and Confederate soldiers who were injured or died, a list of the women from Shohola and Barryville (a number of whom are mentioned in "The Mill on Halfway Brook) who helped the Union and Confederate soldiers who were brought to the Village of Shohola, and Escapes and Legends.
The Sesquicentennial Commemoration of the Civil War train wreck that occurred near Shohola, Pennsylvania, will be held on July 12 and 13.