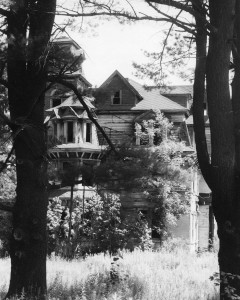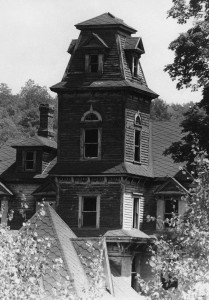 We knew the Grieg Mansion as "Patters or Pater's Mansion" when I was a child. I don't know where that name came from. It was hidden from view from Stege's Road by a dense white pine forest. The mansion was imposing in its scale—there was nothing comparable in the Eldred area. It fit the prototype for a classic "haunted house"—grey and foreboding in an eclectic nineteenth-century melange of architectural styles, incorporating Italianate, Gothic, and Mansard elements. The mansion was already well on its way to decay and delapedation. John Meyer's photos, taken in the early 1960s, show the windows broken out.—Ken Bosch.
The Greig Mansion, Part I, by Ken Bosch, in the Appendix of "Farewell to Eldred."
The Grieg house was still standing when I was a youngster. Teenagers began to break in by the late 50s and smashed out windows, broke furniture, etc. Weather entering through the broken out windows and additional damages inflicted by subsequent legions of vandals resulted in the fire department burning the house down in the early 60s. It is difficult to find a trace of that magnificent structure today.
It was the autumn of 1957. I was in third grade and was allowed to stay after school to watch a high school football game. Against my mother's instructions I went off with Dave Strenglein and Walt Van Ness to see "Patter's Mansion" in the woods near the beginning of Stege Road.
What had been cleared fields in the circa 1900 photos, became a dense white pine forest in the intervening years. The road to the mansion was deeply rutted where wheels formerly had trodden. The ruts were deep enough to hold water. The center of the road and the shoulder were covered with thick tufts of tall grass.
We walked until we came to a clearing. There in the middle was a huge house, greyed from deteriorating white paint and weathering. There was a car port structure in front and steps leading to a large, well-weathered set of double doors. To our amazement, the front door was unlocked.
We entered into a foyer with a large chair with pegs for hanging coats. A pungent musty dusty smell filled our nostrils. A shabby, dusty oriental runner was on the floor. (Used by permission.)
To be continued.