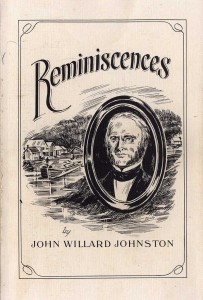 I imagine that a number of my Halfway Brook friends have a copy or have at least heard of Reminiscences written by John W. Johnston around 1900.
Reminiscences is Johnston's first hand (often caustic) account of the people who lived along the Delaware River from Pond Eddy to Narrowsburg in the 19th Century. It includes a helpful historical account of the D&H Canal so vital to the area at one time.
Reminiscences was a source for the history of Lumberland and many of the families mentioned in The Mill on Halfway Brook and the first 20 years of Echo Hill and Mountain Grove.
It is fascinating to go back and reread Reminiscences now that I know who many of the people were. Though there is a bit of a cringe factor when reading the book if there is any relative that Johnston mentions.
Johnston, a lawyer, accurately discusses where different families lived (his signature is on a couple land deeds I have). He comes across a bit arrogant and often negative, judgmental, and unforgiving in his personal evaluation of the townspeople.
Still it seems to be an accurate history that can not be found elsewhere.
Reminiscences (two volumes in one book including old photos); 360 pages plus a very helpful index, can be purchased for only $12.95 (plus shipping) from Minisink Valley Historical Society's Gift Shop.