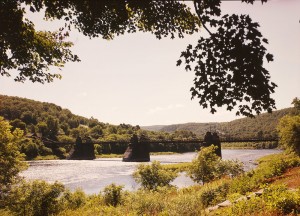 When Rolf B. asked if I knew what years the Old Roebling Bridge Photos were taken, I went in search of an answer.
I did not find the date any of the photos were taken. But I did find five photos I didn't have on the Library of Congress site, three of which I have posted here. I assume if the photo shows a bridge, it was taken after 1898 when the last boat moved over the aqueduct. The photos were listed as "the Delaware Aqueduct," but they look like the structure was a bridge when the photos were taken.
As usual, for a larger image, click on the photos.