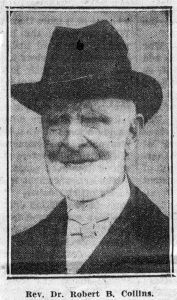 The Austin family met their neighbors the Collins family, at least by 1860. The family was from Ireland and listed as James, 58, a farmer, his wife Isabella, 56, Mary Jane, 25, Robert B., 20. Children Tom and Annie Collins were not listed.
Others were listed as being born in New York: Maria 28, school teacher, Emma, 8, William, 5. The family lived on what is Collins road today.
Thomas Collins died in 1920. Robert Collins, who left Eldred in the Spring of 1862, often corresponded with Mort and Jennie Austin.
In Robert's letter of 1927 to Mort Austin, he was living with his daughter Bertha Coe.
Robert wrote Mort again in December 25, 1928:
…We were interested in the old Place, and often think of it as our early home and of the acquaintances we made there and loved. Is the old farm still in the possession of Mrs. Collins [Emma Kelso, Tom's widow]? If it has changed hands, who is the owner?
That dear old spot has to me many blessed memories. My dear old father, mother, brother, and sisters lived for many years there, and it was from the front door of the old house that my daar mother kissed me good bye when I left home in 1862 to enter the Christian ministry.
How are you all? I have not been in Eldred for two years. I have not been well since last July, when I reached my 88th birthday. Still I am not confined to the bed all the time; simply getting old.
I shall be greatly pleased if you can tell me how the old place is and how its folks are. It is a dear spot to my heart, full of delightful memories, not only of the place itself, but of the people whom I knew and loved and still remember.
With best wishes for your happiness. I am yours,
R.B.Collins
Robert Collins died in 1931. His obituary was in the Austin family collection. To read the obituary of Robert Collins: