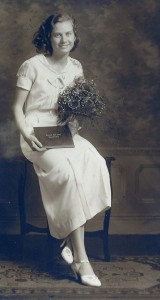 A belated Happy 100th Birthday to my (Austin) second cousin Dorothy (Dot) Hale. Dot turned 100 on December 25, 2014! Dot was born to Burt and Lillie Austin Calkin. Lillie was the only first Austin cousin of my dad Art Austin, who was a year and a half old when Dot was born.
My family had lost contact with favorite cousin Lillie's family in the 1950s. One of my special memories while working on the Halfway Brook Series, was not only to "find" Dot's niece Kathy T. through email (and meet her in person); but to be able to talk with Dot on the telephone. What neat, neat ladies!
(And fun to find out that Dot, like myself, likes to make chocolate chip cookies and freeze them, so there are always some choco chip cookies in the house!!)
Lillie had given her Austin photo/letter treasures (not found in my family collection) to Dot who passed them along to Kathy. Such a great addition to the Halfway Brook books 2 and 3. A special thank you to Dot and Kathy.
HAPPY BIRTHDAY DOT!!