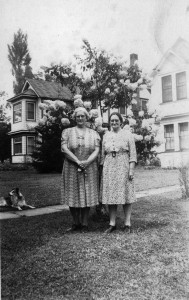 In my vast collection of photos and information related to the Town of Highland, NY, are scans of recipes of my grandmother Myrtie Briggs who lived in Barryville from 1935 to 1945. Her Canadian War Cake was on an earlier post.
Here are a few recipes Grandma had with names of people who lived in the area: Mrs. Lang and Mrs. Steele from Barryville; Mrs. Brodmerkle and Mrs. Clark from Eldred; plus a favorite of mine, Cherry pudding cake, and Chocolate Joy cake, which sounds very good).
Click on the image to make it larger.