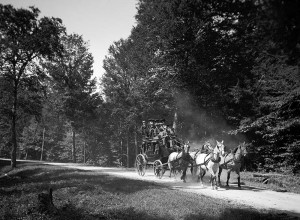 I know of no place that seems pleasanter to me or agreed more with my health than Lumberland.*
—Abby Smith, Nov. 1854.
In 1854 Abby and Laurilla Smith from Glastenbury,** CT, visited Hannah Eldred and her daughter Mary Ann Austin in Halfway Brook.
The Smith sisters were second cousins of Mary Ann Austin as their mother Hannah Hickok Smith (1767–1850) was a first cousin of Hannah Hickok Eldred. Both Hannahs were born in Southbury, CT—22 years apart. Hannah Eldred and Laurilla Smith were the same age—65.
After the visit Abby Smith corresponded with Mary Ann Austin. There are about ten letters in the years 1854–1869.
I have been working on a book using the family information Abby mentioned in her letters; and research—which includes journals*** of Hannah Hickok Smith and her father David Hickok; and very helpful input from Melinda Elliott fellow researcher in Southbury, Connecticut.
The story/book will cover the 1635 arrival of William Hickocks in the New World. Currently it ends in 1886 when Abby Smith's sister Julia died.
My Hickok family—Asa and Esther Hinman Hickok, their six adult children (including Hannah) and at least one grandchild were in Lumberland, New York, by 1812. It has been fun for me to include and intersperse chapters about my Hickok family in Lumberland—using The Mill on Halfway Brook as a resource.
So what does this have to do with stagecoaches you ask? Well, initially I went in search of stagecoach images, thinking that Abby and Laurilla traveled by stagecoach to visit Hannah and Mary Ann. I don't know how they arrived, but in a closer reading of the letters, they returned to Glastenbury on "the cars" which were running late. I assume that was the railroad.
So I might not use this stagecoach photo, but this is part of the process of writing a book. When you find out more details, sometimes information needs to be changed and photos rearranged or taken out.
I have matched up different images with the correct years in Lumberland. What a surprise that I had to "wait" until 1845 to include Roebling's Aqueduct and 1854 for the Shohola-Barryville Bridge. It gave me more perspective on living in Lumberland before 1840.
—————————
* Highland had just recently been taken out of Lumberland, so Abby referred to the area as Lumberland.
** Glastenbury was the spelling at the time. Originally Glassenbury, in 1870 the spelling became Glastonbury, as it is today. (There were five Smith sisters: Zephina, Cryinthia, Laurilla, Julia, and Abby.)
*** The journals were from Connecticut State Library and Connecticut Historical Society. And they mention my direct ancestor Asa Hickok. Hannah borrowed her uncle Asa Hickok's geography book.