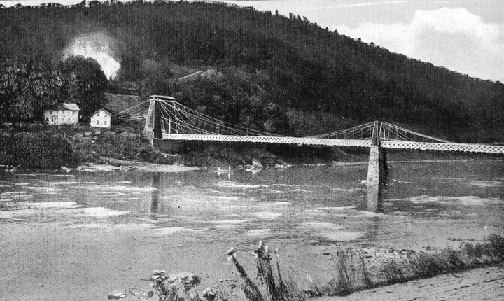 Postcard of Barryville Shohola Bridge and Lookout Mountain.
Courtesy of M.B. Austin.
Until 1856 there had only been a crude rope guided ferry that connected Shohola, Pennsylvania, to Barryville, New York. There became a need for a bridge with the building of the Erie Railroad Depot at Shohola, Pennsylvania.
A suspension bridge, designed by John Roebling, was built about 1855, by the Barryville and Shohola Bridge Co. The bridge originally cost $9,000, and was completed by 1856.
Chauncey Thomas was in charge of building the bridge, and Johnston believed him to be incompetent.
The two towers were each 12 feet square at the base and 40 feet in height, and placed on an abutment of stones, one at Barryville, and one at Shohola.
The towers stood 495 feet apart and supported two wire cables 10 feet apart
2-1/2 inches in the diameter and suspended from tower to tower, with braces
and guys…In time of high wind it would oscillate up and down to the extent of
three feet rendering it impossible for a team or a person to cross.
On the evening of the 2nd of July 1859, an unusual gust of wind from the North struck the bridge, over came the guys, turned the structure upon the edge and demolished it. The bridge was reconstructed at a cost of $4,000.
The bridge was originally constructed with one main span. There will be more about the bridge in another post.
—Information from:
Johnston, Reminiscences, p. 321, 349, and www.bridgemeister.com.