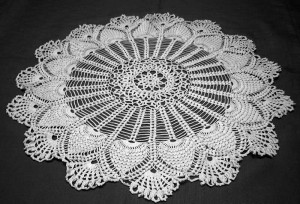 August through October 1932
August 1932
During August Garfield worked on Lou Kelley's porch. Frank Sergeant screened the porch. Garfield put steps in and rails, which Ella painted. Garfield also put in the front walk.
In August the Ladies' Aide Auxiliary held Church Fairs. Ella and the ladies in town worked all year making items to sell. When Mary Sergeant stopped by, Ella sent some of her crocheted work to be sold at the fair.
Towards the end of the month Ella canned 32 quarts of corn. Anna and Clara got a few apples from the old Echo Hill Farm which were not much good. Aunt Anna Leavenworth was at the Leavenworths for the day on Tuesday. They canned 68 quarts of corn. Garfield and Aunt Anna husked it. (Garfield put more shelves in the cellar for the cans.)
Anna took her mother's film to Mr. Krause in Port Jervis. (She got the photos back September 1.) The last day of August, an eclipse covered 95% of the sun.
September 1932
During the month of September Ella canned: 124 quarts of peaches, 76 quarts of tomatoes from their garden, and 27 quarts of apples. Garfield cut the millet and sowed grass seed on the front lawn close to the house. He cut down the cornstalks. They had picked 2,034 ears of corn total for the season.
Garfield and John Dunlap drew hay from Kelley's. They also plowed a garden patch in Garfield's meadow. Garfield worked on the walk to the back door, put curbing by the bay window, and cut wood in their woods.
Ella received a package from Sears with sport shoes for her girls and Garfield's chambray shirting. School started on Monday, September 12. Ella painted the kitchen.
Towards the end of the month Mr. Avery was in to pay the balance of $2.15 on his egg bill. Ella bought two small hams from the A&P.
October 1932
Garfield cut wood and Ella continued to can in October. Tuesday, October 4, Ella and her girls canned pumpkin and tomato soup. Garfield and John Dunlap drew wood out of the woods for at least four days. "We have 21 loads—such a pile," commented Ella in her diary.
Saturday John Dunlap, Everett Kelley, Ed Crail (boarder at Kelley's), Walter Horton, and Garfield cut wood in the morning. Walter left at noon. There was still a very large pile of wood and not all of it was cut.
Wednesday Garfield, Everett, and Ed Crail finished cutting wood. Thursday the Leavenworths gathered 11-1/2 bushels of carrots. They would pull up a total of 47 bushels of carrots.
Mid-October Garfield and his children went up to the lake. They found a bee tree but only got one pail of honey in the comb. They gathered hickory nuts at Kelley's and picked apples at the Wait place. Clara made a nightgown for her mom and pajamas for Anna.
Garfield helped Ella's dad Frank Sergeant with his wood.
A week or so before Halloween, Jim went to his uncle Mort Austin's to get a pumpkin. Monday evening, October 31, Jim went to a Halloween party.