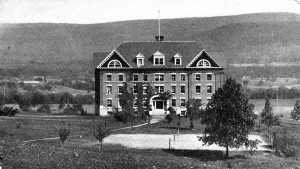 McKinley Attends Mount Hermon
In the fall of 1916 Mort and Jennie Austin said good bye to their oldest son McKinley, as he left to attend Mount Hermon School for Boys in Massachusetts.
Mount Hermon
Mount Hermon was founded in 1881, by evangelist D.L. Moody (1837–1899), To help young men of very limited means to get an education such as would have done me good when I was their age.
The Mount Hermon campus was surrounded by 1,100 acres on the wooded banks of the Connecticut River in western Massachusetts.
The Bible was the primary tool for instruction in the early days, and it was accompanied by a rigorous academic program similar to that of other private secondary schools of the era.
Manual labor, called "Cooperative Housekeeping," was required of all students. Boys performed janitorial, laundry, kitchen, and farm work.
After Moody's death in 1899, his eldest son, William, continued his father's work at the Northfield Schools: Mount Hermon and Northfield Seminary for Young Ladies. Henry Cutler was headmaster at Mount Hermon from 1890–1932.—School archivist Peter Weis, nmhschool.org.
McKinley Austin, Mount Hermon, Mass., to Aida Austin, Eldred
April 6, 1916
Dear Aunt,
I am getting along all right and I like the place very well. All the fellows I have met so far are nice. There is one from India that I have met. He's all right too. Give my regards to all and tell them I'll write soon. Your nephew, McKinley
Changes Ahead in 1917
On January 31, 1917, Germany announced their U-boats would engage in unrestricted submarine warfare. German submarines sank three American merchant vessels on March 17.
Though President Woodrow Wilson had earlier declared the U.S. neutral, in April the U.S. entered the war, The Great War—The War to End All Wars.
Once again men in the villages of Highland township would be fighting in a war, but this time they would fight overseas.
Men from the town, descendants of early settlers, future residents, and relatives of future citizens of Highland, play a part in another horrid War.—from, Echo Hill and Mountain Grove, pp. 315,316, 318.
Note: The United States entered WWI on April 6, 1917. My uncle McKinley, his brother (also my uncle) Raymond, and my Grandpa Briggs (Methodist Minister in Highland, 1935–1945), were all in WWI. Since it will soon be the 100th anniversary of the US entrance into WWI, I hope to add the letters and info I have collected in Echo Hill and Mountain Grove off and on through out the year.—Louise Elizabeth Smith.