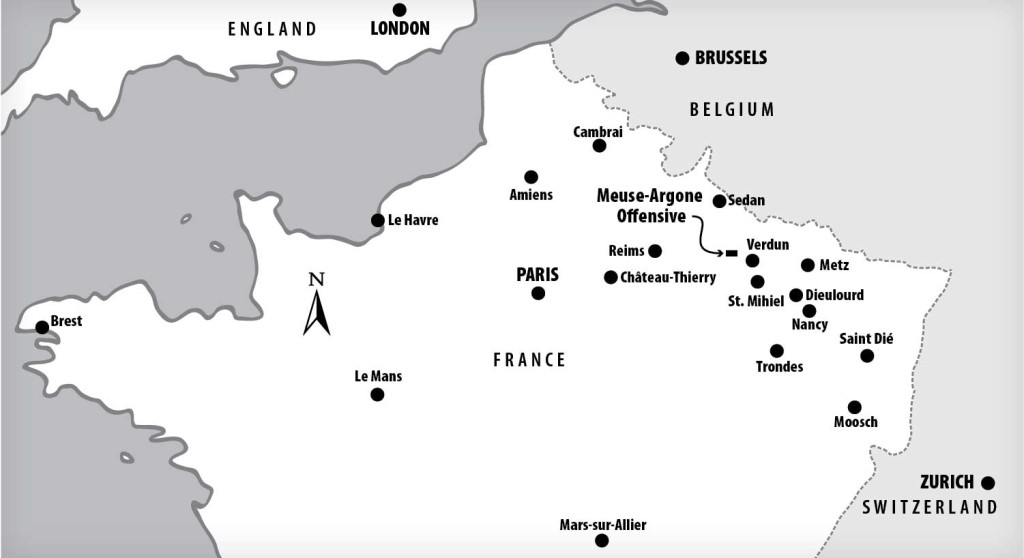 McKinley Sails to France
On April 24, 1918, McKinley Austin (11th Infantry) left Hoboken, New Jersey, on the U.S.S. Leviathan. They arrived on May 2, in Brest, France.
May 8 they arrived at Bar-sur-Aube, southeast of Paris. They were trained there until June first. Six days later, the 11th Infantry moved east to Alsace (German territory at the beginning of the war) in the Vosges Mountains. There the regiment was attached to a French Division.

Irwin Briggs Leaves for France
On May 10, 1918, Irwin Briggs left with the advanced party from 89th Infantry Division which was assigned to the IV Corps, American Expeditionary Forces (A.E.F.).
He most likely sailed from Camp Upton on Long Island, New York, to England and onto France, where we will next meet him at the St. Mihiel offensive in September in the Medical Corps taking the wounded from the field to the hospitals.
Some Highland Servicemen
Way too many sad good byes would be said to the servicemen from the Town of Highland or those who would one day live in Highland—whether they had volunteered or been inducted.
Letters would be anxiously awaited. Some of the Austin letters mentioned several of the town's soldiers. Walter Toaspern served in the U.S. Army Hospital Corps as a chauffeur; Fridolin (Fred) Straub Jr. served overseas with the U.S. Army, 303rd Engineers, Co. E.
Some families, including the Austins (McKinley and Raymond) had more than one serviceman. Anne Stanton Horton had two sons, John (who fought in France) and Ernest Horton, and a son-in-law, Herman Bosch.
Herman Bosch was the son of Wilhelm Bosch had three sons: Ed, Ralph, and Herman involved in the war effort. Ed Bosch quickly rose to the rank of sergeant.
Ed Grotecloss Jr., future husband of Belle Greig, also fought in WWI. Belle was the daughter of Robert and Kate Greig who owned the huge boarding house near Stege's Pond.
Ed Grotecloss Jr., Herman Bosch, Irwin Briggs, and McKinley Austin would all be at the battles of St. Mihiel and the Meuse-Argonne in France, though it is unknown if it was realized in later years.—Echo Hill and Mountain Grove, p. 360.