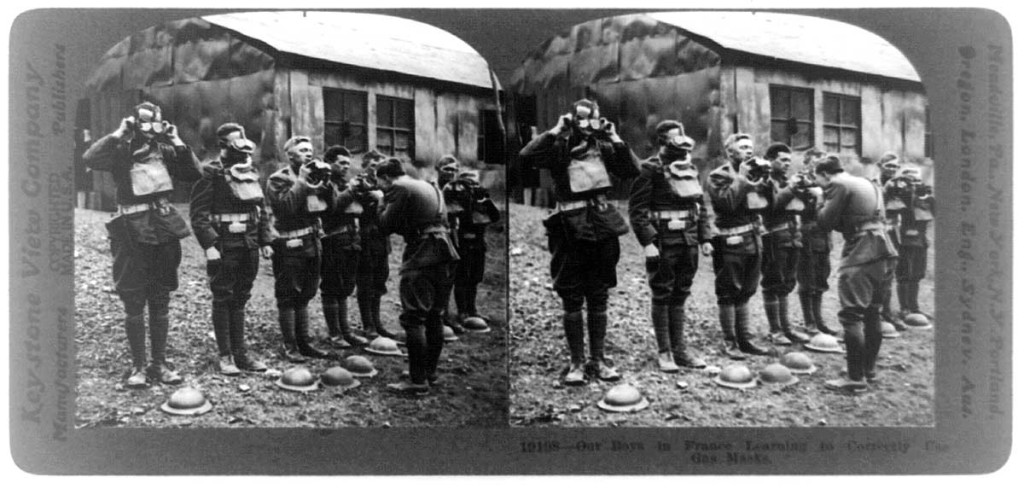 Both Irwin Briggs and Cyrus Roullion (and probably many of the others in this story) experienced Gas Warfare.
Until the first world war, it was considered uncivilized to use poison gas. The French fired tear-gas grenades against the Germans in August 1914, the first month of the war. Two months later, the German army fired chemical irritants or tear gas. Chlorine gas was used by the Germans in April 1915.
Phosgene gas (with a delayed affect of up to 48 hours after inhalation) was used by both German and Allied armies. The Germans used mustard gas against the Russians in September 1917.
Mustard gas was also used by the Allies. An almost odorless chemical, it caused internal and external blisters several hours after exposure; could burn lungs and cause blindness, and severe burns; and stayed in the soil for weeks after release.
Gas protection first included cotton pads dipped in a solution of bicarbonate of soda held over the face. By 1918 when the use of poison gas was widespread, filter respirators were available.
Deaths from gas after May 1915 were rare, but gas victims would still have a debilitating life after being gassed.—firstworldwar.com
Mustard gas caused the most gas casualties on the Western Front. Both chlorine or mustard gas could cause blindness. Respiratory disease was another common affliction caused by the gas attack. Some died from tuberculosis.—wikipedia.org.