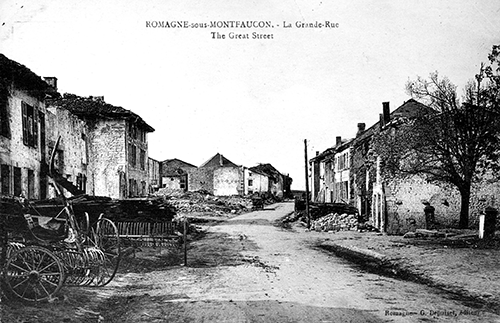 Meuse-Argonne: First Phase
September 26 to October 3, 1918
It was foggy around 5:30 a.m. Thursday, September 26, when about 600,000 American troops (most of them inexperienced) and their 2,700 artillery guns opened fire on 60,000 well entrenched Germans. The Meuse-Argonne Offensive, the largest American campaign of WWI, had begun.
The main U.S. effort took place north and northwest of the town of Verdun, between September 26 and November 11, 1918. It was about 32 kilometers (20 miles) from Verdun to Montfaucon. The American battlefront stretched some 25 kilometers (15 miles) from the Argonne Forest to the Meuse River.
Trench warfare in the old sense was now over. The opposing armies had all accepted this new system of thin outpost lines in the fox holes, while the machine gunners moved their guns skillfully about in forming criss-cross zones of fire.—Gansser, p. 197.
The Americans did not capture Montfaucon on September 26.
Col. Patton Wounded
On September 26 Col. Patton Jr. was wounded in the left leg while leading six men and a tank in an attack on German machine guns. Patton's orderly Private First Class Joe Angelo saved Patton and was awarded the Distinguished Service Cross. Col. Patton, of course, plays a major role in the next war, but as a General.—wikipedia.org.
Montfaucon, Sept. 27, 1918
It was rainy most of September 27. Mud and heavy, wet uniforms slowed things down. Engineers fixed shell holes and laid communication wire on the ground. The wire didn't work when wet, and was constantly being cut by heavy traffic. Ambulances received priority, ammunition second, artillery, then food. Montfaucon was captured 
by noon.
North of Montfaucon, the Germans were ready with hundreds of German machine guns and snipers, and another division for support. Little if any progress was made by the American troops by evening.
On September 27 the Canadian forces smashed through the Hindenburg Line at a dry section of the Canal du Nord near Cambrai (as planned).