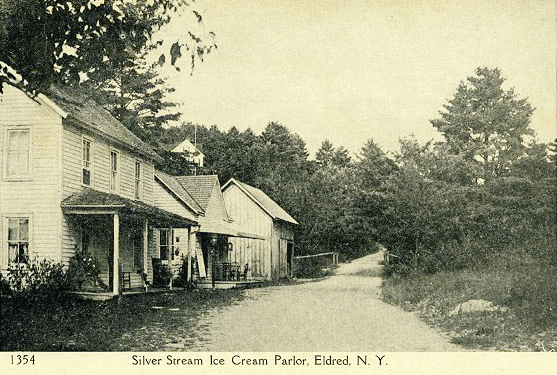 I always looked forward to the time when school would be out, for I never was too fond of studying and, besides, my parents ran a small summer boarding house to which a few families brought their children year after year.
The summer season was the most pleasant time of all, for then the school bell did not interrupt the baseball games or the hours spent swimming with my city friends.—Arthur Austin.
I thought my Halfway Brook readers might enjoy seeing some of the old postcards I have of Boarding Houses in Eldred (where my father Art Austin lived at Mountain Grove House), on or near Highland Lake, on or near Washington Lake in Yulan, near Barryville, and one in Minisink Ford.
The postcards in the next few post are mainly from a collection that, as I understand it, now belongs to the Town of Highland.
Brooklynites and Long Islanders Enjoy a Bit of Country
At Yulan there has been no letup in the season since it began in earnest, about the middle of July. Although many guests went back the end of July, August vacationists are more than filling the places vacated.
Yulan: Bodine Cottages, Yulan Cottage, Park Hotel, and Highland Cottage.
Eldred: Bradley House, and Mountain Grove House.
At Highland Lake the fish are biting better than they did in previous years and many anglers are summering at the resorts to partake of their favorite sport.
Highland Lake: Sunset View, Mills House, and Park View.—Brooklyn Daily Eagle, August 8, 1920.