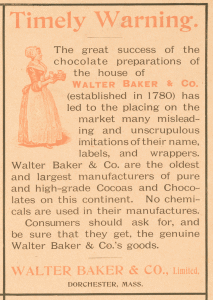 Hannah Hickok, daughter of David and Abigail Hickok, loved chocolate. Hannah was a teenager when she wrote her 1784–1786 Journal. She often mentioned eating chocolate for breakfast, which was not unusual at that time.
Central and South America were the original home to cacao trees, the source of chocolate.
Each cacao pod (the fruit) contains some forty cacao or cocoa beans, which are dried, roasted, and processed into the wonderful goodness called
chocolate.
Spain set up the first cacao plantations in the New World. As with sugar and other plantations, Slaves did the slow, demanding work of processing the beans.
By the 1650s English chocolate houses sold the expensive drink, mainly bought by the wealthy. In 1670 Dorothy Jones and Jane Barnard served coffee and chocolate at their public house in Boston. By 1680 Jamaica exported cocoa to Boston.
In 1705 cocoa and chocolate were advertised in a Boston newspaper. Cocoa beans weren't taxed the same as tea. The beans were shipped directly to the South, Philadelphia, New York, and Boston from Central and South America, and the West Indies.
In 1739 Benjamin Franklin sold local "very good chocolate" along with Bibles, other books, pencils, ink, and writing paper from his Philadelphia print shop.
Since chocolate came in solid blocks and didn't spoil, it made a good ration for the troops in the French and Indian War.
The British troops munched on chocolate while they built His Majesty's Fort at Crown Point.
In 1765 Hannon's Best Chocolate was produced in Dorchester, Massachusetts, from West Indies' cocoa beans.
In 1780 Dr. James Baker became the owner of what became known as Baker's chocolate, the brand name chocolate I remember cooking with in the 1950s and 1960s. It is still available.
In 1773 demand for chocolate was so high in the colonies that over 320 tons of cocoa beans were imported. Chocolate was also a ration for Revolutionary troops.—Rodney Snyder, "Chocolate in the American Colonies," 12/2/2019; Nicole Farland, "Chocolate and Coffeehouses in Colonial America," 3/6/2015; wikipedia.org.