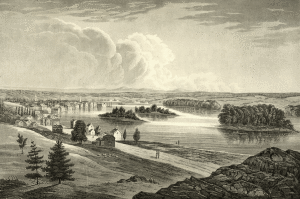 Laurilla and Zephina Smith saw Mrs. Willard (Emma Hart Willard) when they were in Hartford, in September 1821.
Soon after, Mrs. Willard opened her Female Seminary for boarding and day students, in Troy, New York. Finally, a school which offered mathematics, philosophy, geography, history, and science to women.
In 1823 Almira Hart Lincoln, Emma's sister, became a teacher and Vice-Principal at Troy Female Seminary. A recent widow Almira, the youngest of seventeen children, had lived with the Smiths for several weeks (in 1813) so she could copy Laurilla's paintings.
In January 1823 Emma Hart Willard, in her continual search for qualified teachers, wrote and asked Laurilla Smith to teach French. Julia did not want Laurilla to leave. But Laurilla wanted to go. So in February 1823 Laurilla, age thirty-four, left for Troy, New York, some 100 miles northwest of Glastenbury, Connecticut.
Learn Euclid, Teach French
Emma Willard needed someone to teach Euclidean geometry. She thought Julia would be that person. This was the plan: Mrs. Willard would teach geometry to Julia. To pay for those lessons Julia would teach French. After Julia learned Euclidean geometry, Julia would teach the subject to students at the Troy Female Seminary.
Hannah, Laurilla, Cyrinthia, Zephina, and Abby thought that was a good idea. Julia did not. Perhaps Laurilla's tease that Julia would have to take a back seat to the young Eden ladies who (Laurilla said) "knew twenty languages," was a challenge Julia could not pass up.
Julia quipped that she "would not take a back seat, for great books do not always make great scholars. When I see these young ladies I will ask them 'nine plain questions' from Steady Habits Vindicated; or, Nine Plain Questions to the People of Connecticut, a book on Federalism." Many years later Julia commented to her friend Frances Burr:
I became a teacher of French and mathematics at Mrs. Willard's and taught these very same young ladies, Aaron Burr's friends, the Misses Eden, who knew so much. I wrote home that these young ladies who were going to make me take a back seat, were my scholars.
—Abby, Laurilla, and Mary Ann, p. 114.