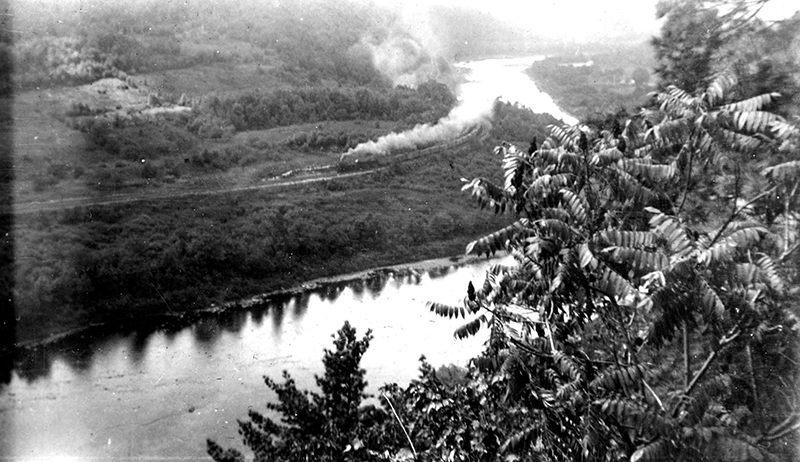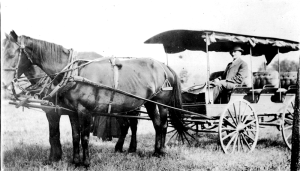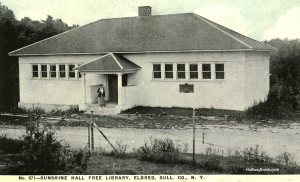 Barryville-Shohola Bridge
In the 1920s some summer guests arrived at their favorite summer vacation place by automobile. Others still traveled by railway to the Shohola Station in Pennsylvania.
After disembarking from the train, the vacationers crossed the Barryville-Shohola Suspension Bridge (built in 1856) to get to the New York side, where chauffeurs waited to take them to their Boarding House location.
Barryville to Eldred
Mort Austin had been chauffering guests to and from the Shohola Station almost 30 years in 1920. From Shohola Mort drove to Barryville, and took Brook Road north past the Barryville
Schoolhouse and the Barryville Glass Factory.
Almost four miles north of Barryville, Mort passed through the village of Eldred. On the east side was the Parker Hotel. Set back behind the Parker Barn, south of Abel Myers' Orchard Terrace House, was the home where Mort's grandparents James and Hannah Hickok Eldred once lived—near the sawmill on Halfway Brook.
On the northwest corner of Brook and Proctor Roads was a structure built by Charles Wilson. Arthur Wilson's A&P would be housed in his father's building sometime in the 1920s.
The road to the west passed the Methodist Church (built in 1859) and headed towards Leavenworth's Echo Hill Farm.
On the northeast corner of Eldred was the store of William H. Wilson, the brother of Charles Wilson.
East Eldred
At Eldred's Four Corners, Mort Austin turned right (southeast) onto Proctor Road. On the right or south side was the schoolhouse, the Congregational Church, Sunshine Hall, and what would soon be the Sunshine Hall Free Library.
On the north side (left) of Proctor Road was the William H. Wilson Store, the Straub Hotel, the Von Ohlen Store, and (next to Halfway Brook) the home where Mort's uncle C.C.P. Eldred had once lived.
After crossing Halfway Brook, Proctor Road continued southeast. Mort Austin continued a short distance after the Y to his Mountain Grove House.—Excerpt from "Chapter One: Most Pleasant Time of All," Farewell to Eldred.