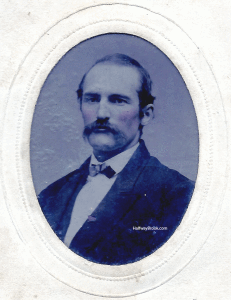 "Is that the new teacher?"
Children and adults whispered the question as Chester Beers, six feet four and one-half inches tall, stepped into the Lumberland Congregational Church, on Sunday, November 29, 1868.
Chester, age twenty-six, was a farmer from Walton, New York. He became known for his "fine butter, maple sugar, and nice vegetables." Along with farming, he liked to fish.
Chester was also fond of books. He attended Delaware Literary Institute, in Franklin, New York.
In the winter months Chester taught school. In the summer season he worked on the Walton farm (his preference) where he grew up.
From November 1868 to March 1869, Chester taught at Lumberland's Halfway Brook Village School—a memorable time for him.
"The scenery of Lumberland is ever fresh in my mind and the merry laugh of the village school I can never forget."
—Chester Beers to Emma Austin, 1869.
Friend Emma, 1868–1878
I invite you to revisit Halfway Brook in the years 1868 to 1878 through the letters Chester Beers wrote "Friend Emma" Austin, combined with letters of the Austin family in The Mill on Halfway Brook.
In his letters to Friend Emma, Chester often asked about his Lumberland students, including: Maria Myers, almost 15, Adda Eldred, 21, Sarah Jane Eldred, 16, Maria Young, 16, Will Kyte, and Julia, 16. (Ages given are from 1868.)
Teachers stayed with a family in a community. Several of Chester's letters indicate that Chester may have lived with the Austin family while he taught. His letters suggest he stayed with the family when he visited some years later.
In November 1868 the Austin home harbored a bustling family of two parents and eight children (ages 2 to 18): Henrietta, 18, Edith Emogene (Emma), 17, Maria, 15, James Eldred, 13, Lon, 11, Aida, 7, Charles Mortimer, 3, Henry Ladore, almost 2. Randolph arrived in mid-December.
Note: This online series of posts will be posted under "Friend Emma" in the Category Section on the left.