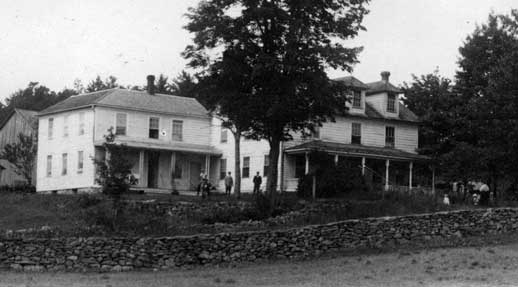 Myers, Mills & Co., Jane Ann Myers
7 miles from Shohola. Conveyance, 75 cents each; accommodates 30; 18 rooms; adults, $6 to $8; children, half price; servants, $5; $1.25 per day. Discount for season.

Lake in front of house; five others within 1 mile. Boats free and to let; others, 25 cents a day. Raise vegetables. Plenty of fresh milk, eggs and poultry.
The above ad was in the 1886 Erie Railway Brochure.
Jane Ann Myers's home had been built in the early 1850s. Possibly in the 1880s, there were two houses. The laundry area and summer kitchen were between the houses.
Jane Ann Myers and her son Augustus (Gus) lived in one house. George Washington Taylor Myers and his wife Martha Mills lived in the other, until George and Martha built their huge, beautiful home, Lakeview on Highland Lake.
I received the above photo from my mom a couple summers ago. We didn't know what house it was, but eventually discovered it was the home of my great-great-grandmother, Jane Ann Myers.