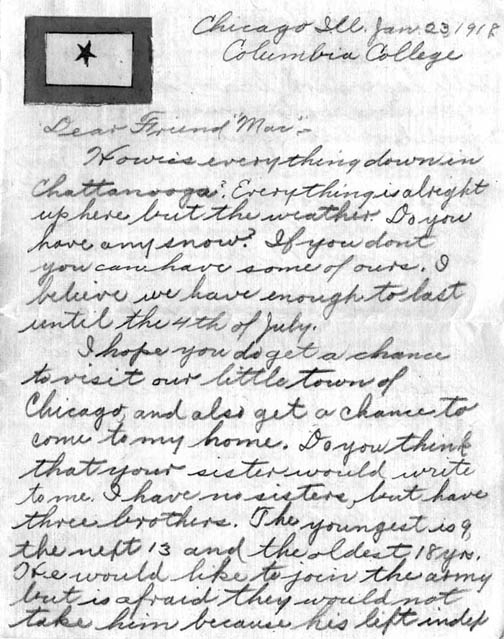 This letter from Helen Hamilton is one of the many letters written to my uncle McKinley (Mac) Austin, who had enlisted when the U.S. entered WWI. Mac's brother Raymond Austin had put a request in the Lone Scout magazine for people to write McKinley (Mac) when he was in training in Chattanooga, Tennessee.
Dear Friend Mac,
How is everything down in Chattanooga? Everything is alright up here, but the weather. Do you have any snow? If you don't, you can have some of ours. I believe we have enough to last until the 4th of July.

I hope you do get a chance to visit our little town of Chicago and also get a chance to come to my home. Do you think that your sister would write to me? I have no sisters, but have three brothers. The youngest is 9, the next 13, and the oldest 18 years. He would like to join the army, but is afraid they would not take him because his left index was blown off.
I am 5 ft. 4 in. tall; have dark brown hair and eyes. I do not consider myself good looking. You will be disappointed in me, I'm afraid. I am 16 years old and my favorite stone is the blue sapphire. You were just 19 this month, weren't you?
I go to Columbia Business College and am taking up the bookkeeping course. I expect to take the Civil Service examination when I finish.
I am not very good at writing letters, but if you can read this writing and want me to write, I guess I will have to do the best I can.
I will give you a picture of me on one condition, that you send me one of you first.
My nickname begins with M, too. The star in the flag is for you.
Hoping you will write soon, I am Your Friend,
Helen "Major" Hamilton