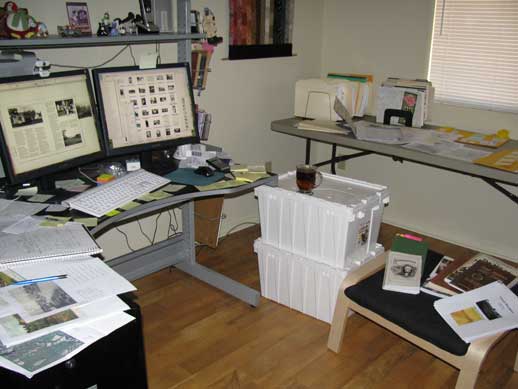 It's been busy crazy times here, but I am gradually working my way through the Echo Hill and Mountain Grove manuscript the 4th time, and 500 pages.
Above is my wonderful workspace powered by tea.
• 2 monitors, the left one shows 2 pages from Chapter 9 which I am currently working on

• tea, on stacked bins (not on computer table) as a safety precaution

• books used as resources and new Maier/Bosch info on my footstool

• tax and boarding house, census, and other information on the table

• lots of sticky notes to remind me what I want to include in the chapters

• calculator to compute ages

• spiral notebook with notes taken down from phone calls

• old postcards and maps with helpful information from cousin Cynthia
I have wonderful new photos and information from several families that make a great addition to the book.
Hopefully, Echo Hill and Mountain Grove will be ready to print by June 2011.