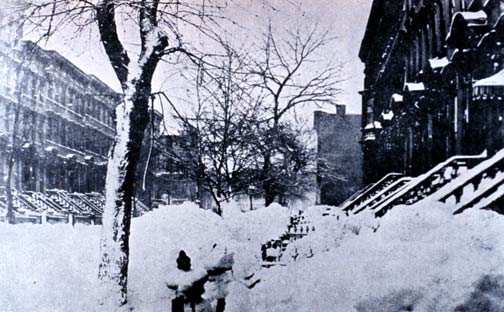 Brooklyn, New York, Blizzard March 14, 1888. Photo courtesy of National Oceanic and Atmospheric Administration/Department of Commerce.
In March of 1888 there was a terrible winter storm on the east coast. It was so bad that it was remembered by an Eldred neighbor, Tom Collins, in a letter to my grandfather Mort Austin in 1908:
It was like the storm we had in '88. You remember it snowed all day and night and oh, the wind how it did blow—raise the hair off your head.—T.K. Collins.

The Great Blizzard of 1888 or the Great White Hurricane, as the snowstorm was called, dumped 40 to 50 inches of snow on parts of New Jersey, New York, Massachusetts, and Connecticut. It paralyzed the East coast from Virginia into the Atlantic provinces of Canada.
Winds were recorded at 40 miles per hour with gusts from 54 to 80 miles per hour. Snowdrifts were 30 to 40 feet with the highest drift recorded as 52-foot snowdrifts.
The storm, which started March 12 after midnight, was preceded by mild weather with heavy rains. As the temperature dropped, the rain turned to snow, and the storm continued for a day and a half.
Albany, New York recorded 48 inches of snow and New York City recorded 22 inches.
Over 200 ships were grounded or wrecked. Travel by roads or Railroads were impossible.
Property was damaged and lost due to fire because fire trucks were immobilized,
The melting snow later caused severe flooding. One comment said that 400 people died including 200 from New York City.
The storm disabled the telegraph infrastructure for days after which, the telegraph and telephone lines began to be placed underground.—wikipedia/Great Blizzard of 1888