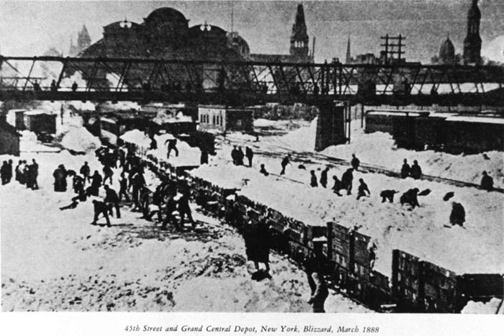 45th Street and Grand Central Depot, New York, Blizzard, March 1888.
Photo courtesy of National Oceanic and Atmospheric Administration, Department of Commerce.
Thomas Brady was a friend of my great uncle Lon (Albert Alonzo) Austin. Mr. Brady's mentioned the Blizzard of '88 in a letter.
Brooklyn, April 5, 1888
Albert A. Austin, Eldred, New York
Friend Albert,
I tell you, we had a hard time of it through the storm.
The road was stopped for three days.
The company sent for all the men to come down to Park Ave. to shovel snow.
Well we went to work for about one hour when someone told us BCRR Co. was paying 40 cents an hour and of course, that caused a tie up right away in the shovels, for they were only paying us 20.
Then we appointed a committee and sent them in the office to see the President and they came out with 30 cents an hour for us and after we found out that BCRR was only paying 20 cents an hour.
I hope you will come and see me and I will have a nice girl for you.
Wishing you happy times.
Your Faithful Friend,
Thos. F. Brady