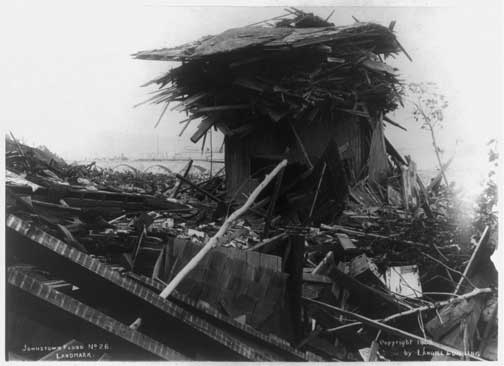 Remnants of a house in the Johnstown Flood. Photo Library of Congress: loc.pnp/cph.3b08648.
On May 31, 1889, the worst U.S. flood in the 19th century occurred. The Johnstown or Great Flood of 1889, took place in Johnstown, Pennsylvania, some 300 miles southwest of Eldred, New York.
There had been an extremely heavy rainfall, and when the South Fork Dam, 14 miles upstream of Johnstown, Pennsylvania failed, 20 million tons of water broke through.
Over 2,200 people were killed, including 99 entire families; 4 square miles of Johnstown were completely destroyed. Property damage was $17 million; and the clean up took years.
It took 7 days and nights to replace the huge stone railroad viaduct that had almost disappeared in the flood. By June 2, the Pennsylvania Railroad was able to provide service to Pittsburgh, and food, clothing, medicine, and other necessities began arriving.
Clara Barton, who led the American Red Cross in its relief effort, was in the area for over 5 months.
Help for the people of the area came from all over the U.S. and 18 foreign countries. There were up to 7,000 Relief workers.—Johnstown Flood.