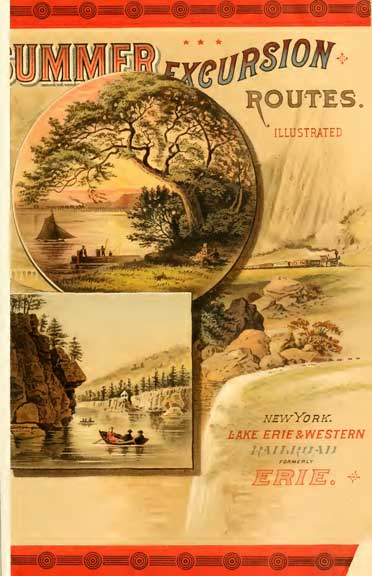 Cover of "Summer Excursion Routes," Erie Railway, 1881.
The Shawangunk Mountains cross the state of New York in a north eastward direction through the counties of Orange, Sullivan and Ulster. They are a continuation of the Blue Mountains of New Jersey and Pennsylvania. The main line of the New York, Lake Erie and Western Railroad begins the ascent of the Shawangunks 65 miles from New York, and crosses them at Otisville, at an elevation of 1,500 feet above tide…
Shohola, with its wonderful streams and glen: Lackawaxen, girded about by hills and mirrored in the broad Delaware; Narrowsburg, with its picturesque old bridge and unfathomable eddy in the river; Cochecton, Callicoon, Hancock, and Deposit; all crowded by the high mountains of the Upper Delaware Valley, offers rare attractions to the lover of the wild and rugged in nature and of true life among the mountains.
The Glen on the Shohola Creek, at Shohola, is a remarkable collection of natural curiosities discovered in 1876…
From Shohola by stage, several resorts in the western Sullivan County mountains are reached, Highland Lake being the most popular. It is seven miles from the Erie Railroad station.—Summer Excursion Routes, Erie Railway, 1881, p. 90.