Shohola Glen, Pennsylvania, Friday, August 26, 1881
Lil, Ida, Addie, Lon, and I have gone out for a morning walk. Lil and I are resting here on the bridge while Addie, J.K., and Ida are exploring the glen. We all got back from the glen about eleven or half a past.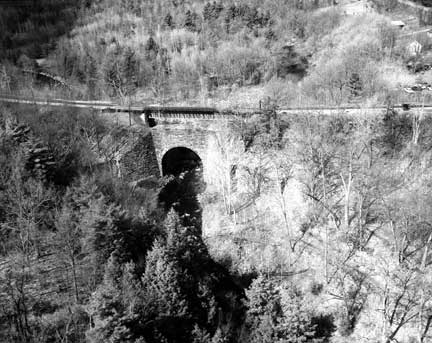 Shohola Creek Bridge over Shohola Creek at Shohola, Pennsylvania.
Library of Congress: 140749pu; HAER PA,52-SHOH, 1-8.
"In its descent from the mountaintops of Pike County to the Delaware, the course of the Shohola Creek is tortuous and extremely precipitous, so that during the last 8 miles of its length, its fall is nearly 1,000 feet; and its course is such that, at one point, the angler may follow it for more than 3 miles and then come out less than 1/4 of a mile from where he started."—New York, Lake Erie and Western Railroad Brochure, 1886 and 1889.
Shohola Glen, Pennsylvania was about 5 miles from the Austin home in Eldred. Shohola Creek started in the mountain tops of Pike County, Pennsylvania and headed towards the Delaware River.
The Erie Railway traveled across the creek on a large arch viaduct which Jacob Pershbacher made of hand cut stone in 1870. Most likely, this was one of the sights Aida and her cousins saw at the Glen.