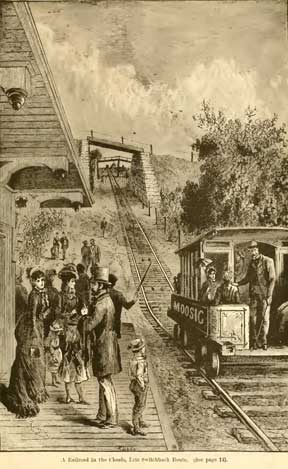 Switchback railroad in Pennsylvania's Moosic Mountains.
The most novel and pleasurable summer excursion route in this country is that offered by the New York, Lake Erie and Western Railway over the famous Gravity Roads of Northern Pennsylvania.
These Railroads are a series of inclined planes and reach an altitude of 2,500 feet above tide. They traverse a country of rugged mountains and glens; waterfalls, gorges streams and valleys greet the tourist in magnificent variety.
One of these novel roads connects with the Erie at Honesdale, Pa. It is owned by the Delaware and Hudson Canal Company and climbs the Moosic mountains to Carbondale by one route, and returns to Honesdale by another—both offering continuous delight to the tourist….
The Honesdale Gravity road is 16 miles in length in one direction and 20 in the other. It was the first railroad constructed in this country for actual transportation business, having been completed in 1829.
The other road of this kind open to Erie tourists extends from Hawley, Pa, to Scranton and is the property of the Pennsylvania Coal Company. It offers a round trip of 70 miles. It also climbs the lofty Moosic range. The scenery is indescribably grand.
The peculiarity of these roads is the absence of locomotives in running trains, hence the entire freedom from cinders, dust and smoke. They are equipped with luxuriant coaches of miniature patterns and with open excursion cars. The trains run up hill and down at the rate of 25 miles an hour. At the points where the summits of the mountains are reached, the view from the cars embraces a panorama extending over thousands of square miles of the most beautiful country. Both roads take the tourist into the heart of the romantic Lackawanna Coal region.—Summer Excursion Routes, New York, Lake Erie and Western Railway, 1881, p. 88.