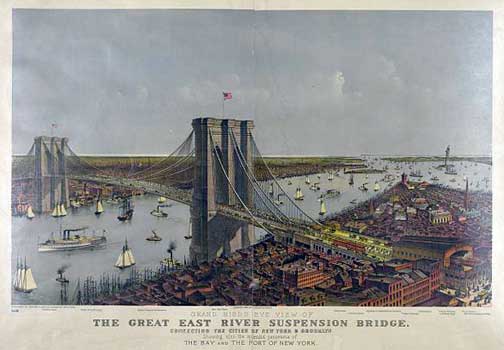 Currier & Ives Chromolithograph, 1885. Grand birds eye view of the Great East River. Library of Congress: 03205r.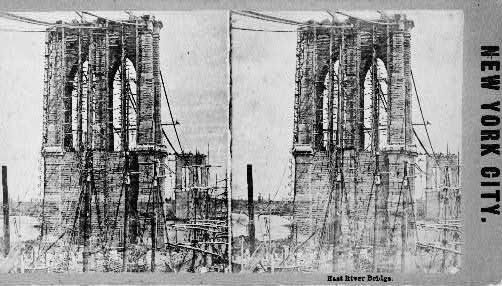 Close-up view of construction of Brooklyn Bridge over East River, New York City. Library of Congress: 3c08446r.
The Great East River (Brooklyn) Suspension Bridge, the first land connection between Manhattan and Brooklyn, was also the first steel-wire suspension bridge. It was the longest (5,989 feet) suspension bridge in the world from 1883 (when it opened), until 1903.
John A. Roebling, who designed and constructed the Roebling Aqueduct in Lackawaxen, Pennsylvania, was the initial designer of the Brooklyn Bridge.
Very unfortunately, Mr. Roebling's foot was crushed when he surveyed a possible bridge site. His toes had to be amputated. Soon after, he died of a tetanus infection.
John's son, Washington Roebling, was then put in charge of the bridge. Washington and his wife Emily had gone to Europe as newlyweds. There they learned how to use caissons (watertight structures) to work on the foundation of the bridge.
On January 3, 1870, construction started on the bridge using caissons. Washington Roebling and several others ended up with decompression sickness or caisson disease. Some workers died. Washington became bedridden.
For the next 12 or 13 years, Emily Roebling played a major role in the completion of the Brooklyn Bridge. Emily relayed directions/information from her husband, Washington, to his assistants working on the bridge; and reported the progress to her husband.
Emily, with Washington's help, learned about the math, calculations, materials, bridge specifications, and cable construction information necessary to build the bridge.
In 1882, when her husband's position as chief engineer was questioned, Emily wrote down her husbands statement as to why he should not be removed, and spoke to the American Society of Civil Engineers. Washington Roebling was permitted to remain as Chief Engineer.
When the bridge was opened May 24, 1883, Emily Roebling rode with President Chester Arthur. Later President Arthur went to the Roebling home and shook hands with Washington who had been unable to attend the ceremony.
1,800 vehicles and 150,300 people had crossed the East River on the Brooklyn Bridge.
One story was that a week after the opening, a rumor said the Bridge would collapse. A stampede crushed and killed 12 people.
A year later, P.T. Barnum led a parade of 21 elephants over the bridge, helping to end doubts about the bridge's stability and publicizing his famous circus at the same time.—http://en.wikipedia.org/wiki/Brooklyn_Bridge