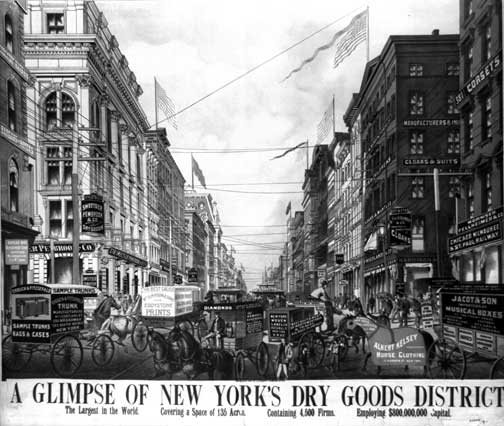 1886 lithograph of a busy scene on Broadway in New York City titled: A glimpse of New York's dry goods district; The largest in the world, covering a space of 135 acres; containing 4,500 firms; employing $800,000,000 capital.
—Source: Library of Congress, Prints and Photographs Division:LC-USZ62-2662.
The Austins often spent the winter in New York City with their Eldred-Austin cousins, possibly through the 1880s. At the turn of the century (1900s) Mort and Jennie Austin and their family often received postcardswith New York City buildings or bridges from friends and boarders .
All this to say that Echo Hill and Mountain Grove is peppered with sidebars related to New York City.