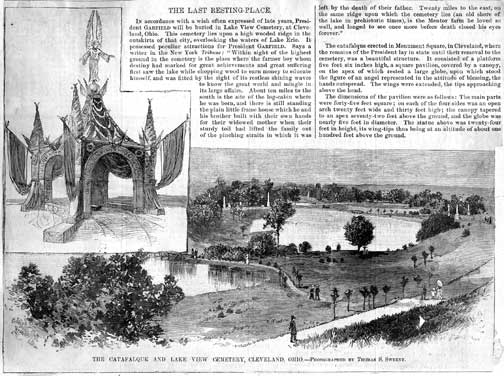 The Last Resting Place
In accordance with a wish often expressed of late years, President Garfield will be buried in Lake View Cemetery, at Cleveland, Ohio. This cemetery lies upon a high wooded ridge in the outskirts of that city, overlooking the waters of Lake Erie.
It possessed peculiar attractions for President Garfield, says a writer in the New York Tribune: "Within the sight of the highest ground in the cemetery is the place where the farmer boy whom destiny had marked for great achievements and great suffering first saw the lake while chopping wood to earn money to educate himself, and was fitted by the sight of its restless shining waves to know the great world and mingle in its large affairs.
About 10 miles to the south is the site of the log cabin where he was born and there is still standing the plain little frame house which he and his brother built with their own hands for their widowed mother when their sturdy toil had lifted the family out of the pinching straits in which it was left by the death of their father.
Lake View Cemetery, Cleveland, Ohio. Photographed by Thomas S. Sweeny. Page in Mary Ann Austin's Scrapbook courtesy of Cousin Melva.