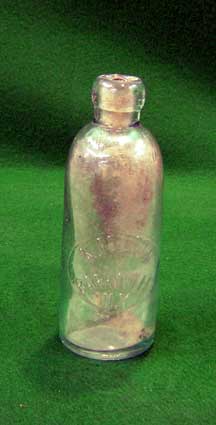 Less than five miles east of Zane Grey's future property was an old D&H Canal office building in Barryville that Asher and Carrie Pelton had turned into a Soda Factory. The Pelton Company made their own bottles and filled them with their own soda and shipped them on the canal to the city.
The William Kerr family lived next door to the Pelton Factory.
Directly opposite this [Kerr] house…beside the tow path, is the spacious dwelling house once of the Canal Company, and quite recently sold to a man named Pelton. It stands midway and opposite lock No. 71 [lock numbers have since changed], and on the side of the original lock house…
It was erected in 1869 as a residence for the superintending foreman of the company and as a stopping place for the higher dignitaries connected with the company…It was inhabited by James H. Quick until sold to Pelton…It is rather a desirable place.—Johnston, p. 324.
In 1900 Asher Pelton was a carpenter. He and Carrie had two sons: Edward and Howard, who were day laborers.
An October 4, 1900 land deed stated that Carrie Pelton, Ashur's wife, bought the property from the D&H Canal Co. for $1,000.
In 1836 that property (one boundary of which was "along a line of white pine trees") had been sold to the D&H Canal Company by Robert and Phebe Johnston. James Eldred (my great-great grandfather) was the commissioner at the time.