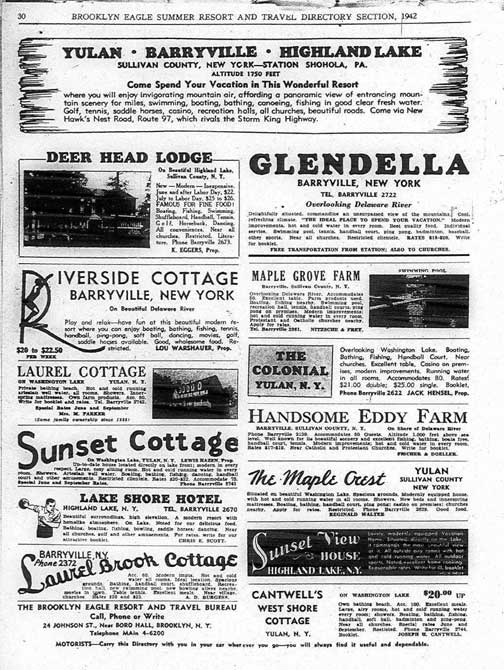 Here are some boarding houses mentioned in the Brooklyn Eagle Summer Resort and Travel Directory of 1942:
Deer Head Lodge, Highland Lake
Glendella, Barryville
Riverside Cottage, Barryville
Maple Grove Farm, Barryville
Laurel Cottage, Yulan
Sunset Cottage, Yulan
Lake Shore Hotel, Highland Lake
Laurel Brook Cottage, Barryville
The Colonial, Yulan
Handsome Eddy Farm, Barryville
The Maple Crest, Yulan
Sunset View House, Highland Lake
Cantwell's West Shore Cottage, Yulan
Perhaps my readers would be interested in searching for New York News from Fulton History, a site that features over 18,269,000 Old New York State Historical Newspaper pages.
This is the link to page one which lists their searchable old New York newspapers.
It's helpful if you have a fast internet connection if you search for names on the Fulton site.