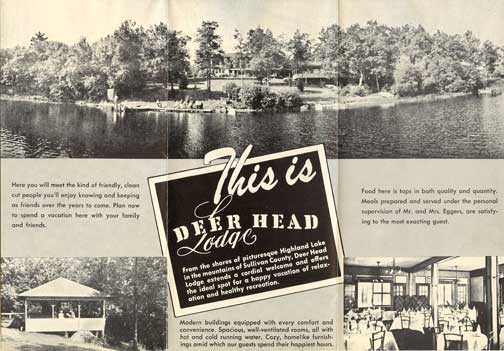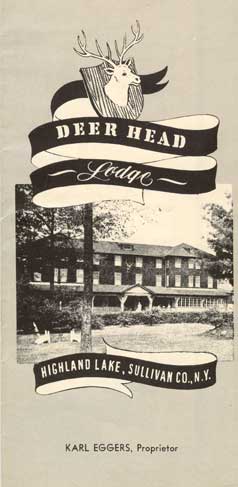 This is Deer Head Lodge
From the shores of picturesque Highland Lake in the mountains of Sullivan County, Deer Head Lodge extends a cordial welcome and offers the ideal spot for a happy vacation of relaxation and healthy recreation.
Here you will meet the kind of friendly, clean cut people you'll enjoy knowing and keeping as friends over the years to come. Plan now to spend a vacation here with your family and friends.
Modern buildings equipped with every comfort and convenience. Spacious, well-ventilated rooms, all with hot and cold running water. Cozy, homelike furnishings amid which our guests spend their happiest hours.
Food here is tops in both quality and quantity. Meals prepared and served under the personal supervision of Mr. and Mrs. Eggers, are satisfying to the most exacting guest.
Click to see photos of Deer Head Lodge being demolished in April 2010.