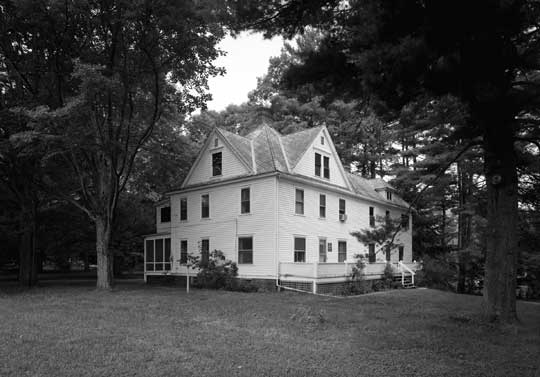 Zane Grey's first Western, The Heritage of the Desert, written in 1910, became a best seller. By 1915 Zane Grey had 15 books on a variety of subjects, including baseball, westerns, fishing, and outdoor adventure.
—wikipedia.org; nps.gov/upde.
Zane and Dolly Roth Grey lived near the Roebling Bridge at Lackawaxen, Pennsylvania. Zane had met his future wife Lina (Dolly) Roth, at the Delaware House in Lackawaxen where Zane and his brother Romer liked to hike and fish.
In 1904 Zane had left his New York City dental practice to become a professional writer. With the help of Dolly, Zane bought 3 acres with a house and barn in Pennsylvania from the Holberts for $1,425.
(Federick and Mary Holbert had bought the 3-acre farm in 1898 for $300 from the Canal which was closing.) The land was just south of the junction of the Delaware and Lackawaxen Rivers, and north of the Roebling Bridge—some 5 miles west of Shohola.
Zane and Polly's drafty Holbert farmhouse was next to the house and property of Zane's brother Romer. In 1914 Romer Grey and his wife deeded their house to Zane's wife, Dolly Grey, for a dollar.
Zane Grey demolished the old Holbert farmhouse. An addition and other renovations were completed on their "new" house by early spring, 1915. (There was another addition in 1916.) Stone was hauled from Grey's bluestone quarry (he owned one-half interest) across the ice.
The building records included a letter that "master carpenter August Clouse" wrote to Zane. August Clouse included a bill for work done by himself and his carpenters: Fred Clouse, Job Reber, and Fred Squires.
Zane, Dolly, and their 3 children stayed at the Lackawaxen house when the weather was warm—May or June until October. After the family left for California in 1918, "to assist with the production of movies based on his western novels," the Lackawaxen home continued as a summer home.—Information from several sources, including Library of Congress: HABS No. PA-5371.